Thank you using the Bug section, using templates provided will greatly help the team reproducing the issue and ease the process of fixing it.
Are you using Developer Mode or made changes in it?
No.
Brief description of the issue:
0x00007FF743C96DAC memory issue still exists in the beta. Very random and you'll never know when you'll get it. Tried with default aircraft and empty community folder as well. Still getting it randomly.
Provide Screenshot(s)/video(s) of the issue encountered: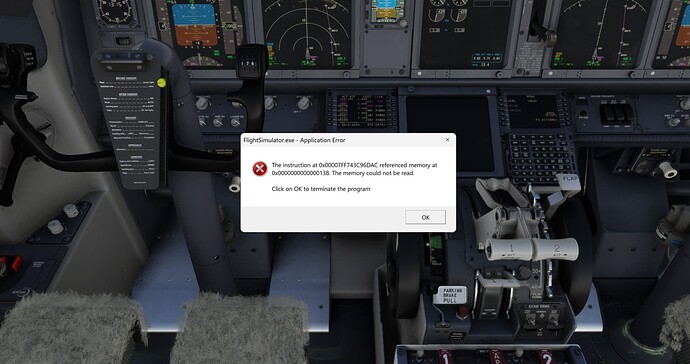 Detailed steps to reproduce the issue encountered:
PC specs and/or peripheral set up if relevant:
Are you using DX12?
Tried both DX11 and DX12.
Are you using DLSS?
Yes and No.
---
For anyone who wants to contribute on this issue, Click on the button below to use this template:
Do you have the same issue if you follow the OP's steps to reproduce it?
Provide extra information to complete the original description of the issue:
If relevant, provide additional screenshots/video: