Can't see my Speed/CRS/Vertical Speed/Altitude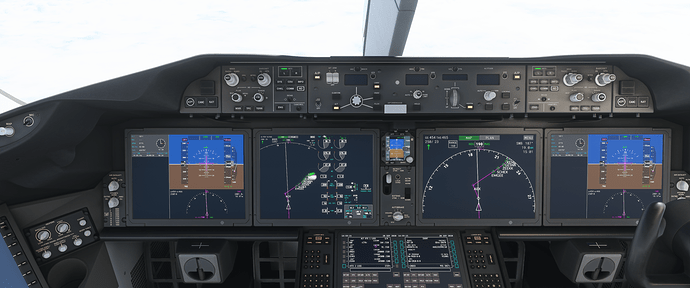 It happened more than twice in the last few days, just after the patch.
Hey @MattB6421. If you check the Known Issues, it seems this may be one of the issues being tracked since v1.8.3.0 was released. Please file this with Zendesk and include screenshots showing the issue. Thanks.
Thank you! Yep, just filed it on Zendesk with 2 screenshots
Thanks!
I had this issue as well with no way to get them on.
I did a software reset (Completely uninstalled and deleted all data including community folder).
I loaded up the default 787 (which was all I had at the time) and they were working.
I then added one livery at a time (of those I thought I could live with) and so far they are working again.
I haven't put in any of the 'modifications' yet (those that added functionality to the screens) and maybe one of those files is the culprit?
I will try to delete everything in my community folder tomorrow (I have the liveries pack V7 + Air Canada for the 787) and reinstall them. What else did you uninstalled? (software reset?)
To me, It may take up to 2 hrs of flight time for the problem to appear. It's really random over time but the problem always occurs. It happened on each of my flights on VATSIM
Check this thread, is the same bug i think

On Windows - to software reset in the start menu go to Microsoft Flight SImulator- RIGHT click on it then select "More" - then "App Settings" -under the header "Reset" there are options to "Repair", "Reset" or Uninstall. "Repair" does not delete the apps data, whereas "Reset" is basically the same as uninstalling and reinstalling. - If you select "Uninstall" it will NOT delete your data or community folder. (Once I know everything in the community folder is working I make a backup copy of it so when I reinstall it I can move things back.
I've taken 4 flights in the 787 so far and the MFD hasn't turned off.
My problem was that the MFD was just gone and would not turn on no matter what I did.
So far I have not put the 787 mods (that give it more functionality, more buttons work) back in the folder yet.