I would like to request a full, formal, top-down review of the entire logic of how MSFS handles all of the network service connections - especially when there is a connection problem. For a "Game as a Service" MSFS is far too fragile when 1 or more services are unreachable, and immersion is constantly being broken unnecessarily. Sometimes it renders MSFS unflyable at all.
MSFS connects to many servers and content delivery networks:
Xbox Live for authentication
Bing Maps for terrain
Photogrammetry
Weather
ATC
Traffic
Multiplayer
I believe there is a cloud instance of some kind loaded for your flight
probably more I'm not aware of…
The current experience is that when any 1 connection is slow or unresponsive, it's as if MSFS is in "debug mode", it interrupts flight with a popup message that is often worded, "Your connection…" implying it's the User's responsibility. The choices offered are of little help or are dead end links, immersion is broken, and there is no graceful fallback to continue flying uninterrupted.
Further, because of how this Forum and Zendesk are designed, the staff have no visibility in to Microsoft server issues. And, there are many individual reports about these issues, but they seem to get lost in the noise and not recognized collectively as 1 larger issue. I fear they each only get a bandaid fix, only if voted heavily. I would like to request that Asobo proactively search for all the Network-related issues to be reviewed TOGETHER, in CONTEXT with one another, because the flawed logic of how MSFS behaves underlies them all.
I have put a few links below to some, but it is easy to search the forums for "Connection" or "Server". Imagine if fixing the logic could resolve a whole bunch of these issues together, and result in a much better experience?
After 9 months of beta testing MSFS on XBox X, The network connection issues and behaviour collectively are (in my opinion) the biggest problem facing MSFS. This week alone I've read several posts of paying users who now dread turning on MSFS, and are taking a break because it causes more stress than enjoyment. I am close to feeling the same way.
I would suggest a simple logic to start with (from a customer perspective):
The current behaviour seems to have bias built in - that when any 1 server is unreachable, the game is interrupted, the user is notified, and the message of "Your connection…" or, "Your bandwidth…" seems to put the responsibility on the User to check their internet connection, etc. That's backwards.
There needs to be much more detailed automatic checking of connections to each individual service before MSFS logic concludes it is the User's entire internet conection is the problem.
Provide a Network Toolbar icon so the user and Microsoft can SEE the status of the various services live, all the time.
If any individual service is slow or unresponsive - while others are ok - obviously it's not the User's internet connection. So in that case, automatically log the issue with Microsoft so they can see patterns in real time, and automate things.
If any individual service is slow or unresponsive, MSFS should have a more graceful fallback - especially if offline files are installed - so pilots can just continue flying. There is no need to "inform" the user, because any degredation will be visually obvious - and more importantly, you shouldn't break immersion.
Allow the User to choose if they want the pop up alerts. My guess is that most people would prefer a Toolbar Network Status window of some kind.
Review the full GUI for various Online / Offline scenarios - currently on Xbox with Premium Deluxe the option to turn General Options > Data > Online Functionality ON or OFF is greyed out! And there is a chronic problem of not being able to authenticate MSFS even for offline flight, etc.
Here are 2 simple visual suggestions (which I'm sure you could improve upon):
An in-flight Network Status Toolbar icon: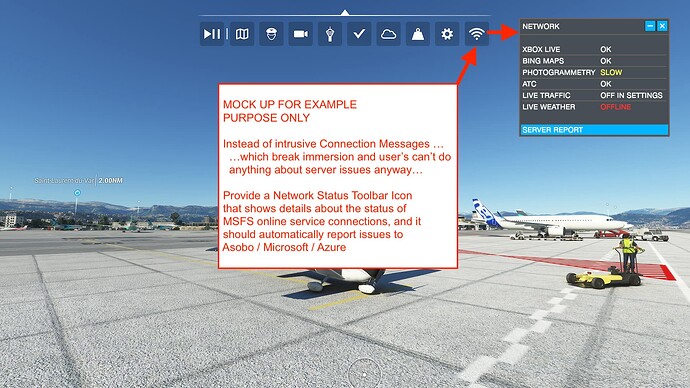 When in the MSFS home screen, under the Gamer Tag:

Here are a series of posts and issues which I believe all suffer from the same flawed underlying logic. Please consider reviewing them in context of each other:
Please consider these network-related issues in context, and do a top-down review of the logic, provide better, clearer info to the user, log issues with Microsoft automatically, and improve the experience for everyone. Thanks for your consideration.