I read here so often "Which CPU should I buy?", "Which GPU should I buy?" how many FPS will I gain by upgrading?" Some write "I have 40fps with with CPUxxx and GPUxxx".
But what does that say?
Only if everyone does a test flight under the same conditions can be judged how much fps gain an upgrade would allow.
I therefore simply started a test flight with different aircraft, always under the same conditions. Everyone can recreate this short flight on their own system and write it here, so we have a better comparison.
I chose a sightseeing flight around the centre of Sydney. CPU and GPU are challenged here, sometimes more, sometimes less.
Take-off: YSSY, runway 34R
Altitude: 1500 feet
Landing: YSS, Runway 16R.
FS2020 settings: Graphics Ultra but Glass Cockpit Refresh Rate = LOW
Weather: Clear Skies
Aircraft traffic type: off
Date and Time: 18 August 2020, 12:00 p.m. Local time
Task: Sightseeing flight with a view of the centre of Sydney.
Here is an overview of the route.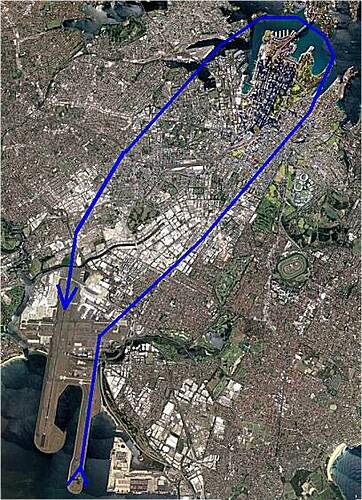 Here is a sample video. Unfortunately not so smooth because of the conversion of the video. Also, the capture software cost me 3 fps.
https://youtu.be/IgrIHmNWa-o
My PC system:
I7-6700K @4.4Ghz
2080ti
32GB RAM 2666Mhz
2560x1440 Pixel
MSI afterburner to determine the FPS
My average fps at the end of flight values are:
Asobo Cessna 152 = 53fps
Asobo Cessna 172 Skyhawk = 45fps
Asobo Cessna 172 Skyhawk G1000 = 40fps
Carenado YMF-5 = 41fps
Carenado M20R Ovation = 36fps
So, now everyone can recreate this short flight and get an overview of how different hardware behaves.