The only book you need to read:
Agreed, it's excellent. I read it multiple times already.
It is amazing–as are all of Gann's books. I only wish that they'd re-release them on Kindle–I'd repurchased every single one of them.
The Haynes Workshop Manual series has a good one on the Dakota, the military version of the DC-3. The book has a good history, lots of historical photos, and focuses on the Battle of Britain Memorial Flight Dakota with tons of colour images of every nook and cranny of that aircraft.
weeks ago I posted a request about the Colombian airlines that still operate the DC3
with some of the classic videos of Colombian DC3
Sadly I haven't enough time to gather more information about destinations and timetables. This weekend I would try to checkout at flightaware and flightradar searching for more info.
Fate is the hunter is available on Kindle, that's where i read it many many times
Hi, thanks. Could you provide a link–I can't seem to find any of Gann's book on Kindle at the Amazon store. On the eBooks site, I get a "this eBook" is not available in your country (USA)" note. Perhaps that is why I'm not finding it on Amazon?
Yes, this is a great book. Excellent recommendation.
I just finished reading this, which was a fascinating read about a topic I knew little about and is rarely, if ever, mentioned in popular and not-so-popular topics on military aviation. The DC-3 played a major part in Air Transport Command.
Anxiously waiting.
I've flown the Aeroworx freeware DC3 for Xplane which is quite good, systems are not deep but for a freeware it is really good.
I also got the Vskylabs DC3 for XP11 that is probably the worst add-on I've seen (considering it is payware), if you put a pilot in their cockpit he will never guess he is in a DC3.
About Aeroplane Heaven I read a lot of bad feedback about them, I really don't think they can do it worst than Vskylabs and I hope it can be better than Aeroworx. Hopefully!
I've had this book for 25+ years. By Arthur Dearcy, called "Fifty Glorious Years: A Pictorial Tribute to the Douglas DC-3".
Looks like there's some used versions out there.
Ah that may be the problem, I bought it on amazon.de as I am in Europe
For me the test for AH will be if they get the sound right this time: their F3F and P51 justifiably received a lot of flack for the poor sound implementation.
Agree with you about Aeroworx

Way back when AH was going to release this they did a video about the sound. This is a full Wwise sound pack created by a pro sound designer.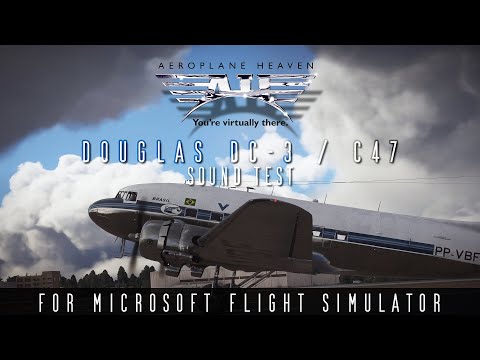 I just hope MS lets them release the paintkit… Is it too early to start requesting liveries?
Really dying to see how good or bad this one is.
Two looooong days
I suppose that to ask an deep engine simulation like the Manfred Jahn's C47 is demand too much to this version, isn't?
was best ever,a shame it is not in 2020…as a betatester at this one i still miss it…i like to pay for this one if it ever comes back inkl. all features