Hi all,
There is a trend that's in development that bothers me greatly. Take a look at this post by SimWorks: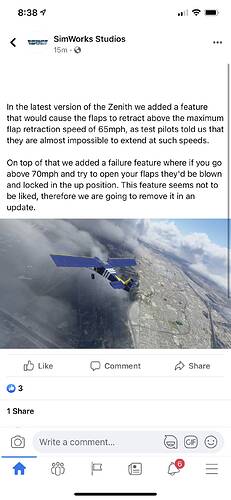 In addition, Milviz included a realistic engine failure simulation for when you fly the aircraft improperly and outside allowable parameters. They are also now being hounded by some to not have that. Or at least, make it optional (which thankfully, so fair they have stated they are NOT gonna do)…
This is unfortunate in my view. Just cause some people want "easy to fly" aircraft, now developers are getting complaints if they actually include authentic simulation features and make the aircraft deeper than default. CRJ is now being criticized for having to actually learn how to program FMS with a flight plan cause it doesn't use the default flight planner.
Some of us WANT these things - that's why you pay good money for deeper aircraft! If you want to fly easy stuff, you have your default planes! Why ask for SIMULATION features being taken away from a SIMULATOR?
My proposed solution is to MAYBE do what InfiaFoxtEcho did (have a LITE version of their T-45 included as a selectable aircraft). That one was done for PERFORMANCE reasons and not simulation differences, but that may be a possibility. It's probably a pain for a developer to do, but it's the only solution I can think of.
What do you all think? I am all for casual simmers' right to enjoy the sim and all, but certain simulations are deeper than others and I have been waiting patiently for things like this to come from devs. Them being hounded to take it away now is REALLY disappointing. I suppose it's the downside of this simulator's wider appeal. Wait until the X-Box crowd comes too. This issue is NOT going away, I am afraid.