I found some old notes of a planned Alaskan trip for FSX I never completed. I have cleaned it up (I use OneNote) and saved to PDF, in case anyone fancies trying it. The description is pure VFR.
I haven't tried it myself yet under MSFS! Not sure where I got it from - I suspect an old PC Flying magazine
Note there is no flight plan - navigate by looking at the ground and scenery around you and reading the maps!
I think the original plan used something like an Otter to land on water - we don't have that, so go small

I've tried cut n Paste from OneNote. If no could you could try the PDF: Microsoft OneDrive - Access files anywhere. Create docs with free Office Online.
Cordova/PACV to Chitina CXC – 96nm
Take off and climb out to just 3500ft on a heading of 090°M.
Note that the magnetic variation here is a significant 18°. So be sure to select magnetic headings if you choose to fly off a flight plan.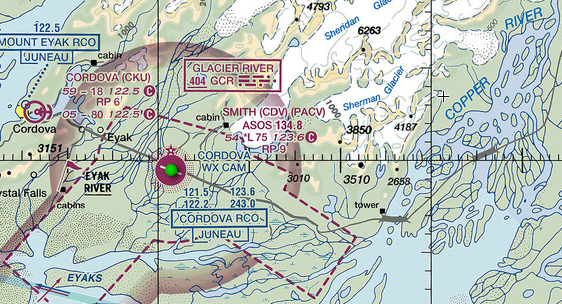 In around eight minutes you will find yourself flying over a very wide delta of the Copper River. We will turn left and follow the river all the way to our first port of call, Chitina/CXC.
The valley is quite steep on either side and narrows the further north we fly, so you will have no problem in navigation visually, provided the cloud base and visibility are in your favour
The 96nm leg will take you around 50 minutes. Be sure to take plenty of time to enjoy this stunning valley with close-up views of mountains, glaciers and the ubiquitous mud flats.
The 2600ft Chitina airstrip is very close to this river junction on the west side and aligned 130°/310°.
Make a circuit and land according to the conditions before taxiing in and off-loading a couple of passengers. Chitina's population is just over 120 but its proximity to the largest national park in the US means It attracts tourists, fishermen and hunters.

By keeping an eye on your clock, you'll know when you have arrived at the Copper and Chitina Rivers as the Chitina suddenly enters on your right, as the Copper continues to meander to the northwest.
Chitina/CXC to Gulkana/ PAGK - 45nm
The benefits of a short-field aircraft become apparent as you take off from Chitina!
After take-off, level off at around 3000ft and continue to fly northwest up the Copper River.
Take care with your altitude as the valley river and floor quickly rises to 1500ft by the time you reach Gulkana.
Gulkana has a remarkably good airfield given the town's population of around 120, with a 5000ft 14/32 asphalt runway.
Gulkana/PAGK to Smokey Lake/5AK - 29nm
We are flying in some quite remote wilderness and home to some of the finest hunting and fishing in North America. One of the few main links is the Glenn Highway which winds its way along the Tazlina River between Glennallen
and Anchorage. This has resulted in a number of lodges and airstrips close to the highway to service these waters.
Our next leg will take us along the Glenn Highway to the locality of Mendeltna. This is a convenient place for bush charter pilots as they can land on either the Tazlina/Z14 gravel strip or the adjacent Smokey Lake/5AK to collect fishermen
who have arrived via the highway and ferry them to more remote lakes to the south.
For this leg, after taking off note the time and track 241deg while climbing to around 3000ft.
After Several minutes you will Intercept a main road roughly paralleling your track. This is the Glenn highway and you can now either maintain 241deg, or use the time honoured rule and use Bush pilot IFR (I Follow Roads, Rivers, Railways etc) and fly along the highway.
The leg is 29nm, so it will take just 15 minutes alter departure to arrive at Mendeltna.
The airstrip is difficult to see but it runs north/south on the northern side if the highway, with the alarmingly small Smokey Lake running perpendicular on the south side of the highway.
Try landing at Smokey Lake and taxi to the western end to collect your passengers.
Smokey Lake/5AK to Klutina Lake - if no water landing option, just fly over!!
Now that we have collected our passengers and all their equipment, on departure, track 127°M and climb to 5,000ft.
The track will take you over some tiny hills (by Alaskan standards!) and once clear you will see a glimpse of Klutina Lake through the hills ahead about 10 minutes after leaving Smokey Lake.
Start your descent to arrive over the lake at 2500ft and fly south to the far southern end where the river enters the lake.
Land and taxi towards the lake's edge where you can unload your passengers.
Klutina Lake to Cordova/PACV
Our final leg will take us back to Cordova but with a final couple of twists for the brave.


After take-off, track and climb to 8500ft to clear the intermediate terrain and track 145°M.
Be sure to note your departure time as it will take some dead reckoning navigation skills to find an optional airstrip along our route.
Eighteen minutes after departure from Klutina, be on the lookout for a 2300ft grass airstrip at Thompsons Pass/K55 that runs 05/23.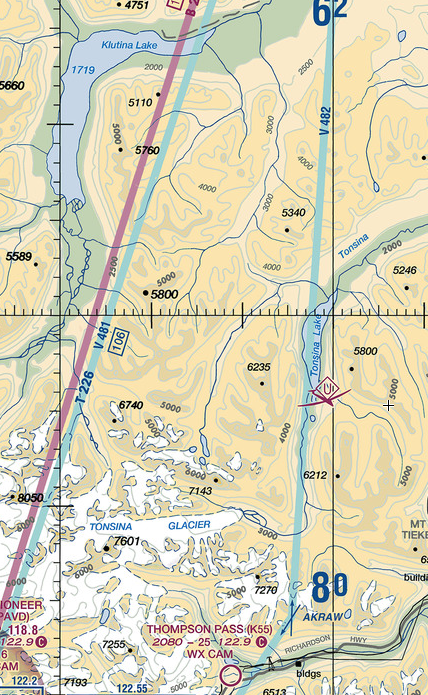 The area is most easily recognised as it lies just north of the widest east west valley oriented in the area.
If you feel you aren't up to this one yet or can't locate it, track 164° for the 42nm (23min) run into Cordova Municipal/CKU.
This is the 1800ft gravel strip. Again, if in doubt or the winds don't favour this strip, track 097°M for the 15nm run into your starting point - 'Mudhole7 PACV - and enjoy a well earned break.