Looks very nice.
Do you model these bezels by hand yourselves, or is there some kind of resource that 3PD's can dip into for some of the common items?
it's very refreshing and reassuring to see how you make this addon with such passion and craftsmanship.
I appreciate these posts a lot.
Thank you very much darshonaut! We like what we do and those evening pictures at the next day remind us what we are capable to do!
Love the visible daily progress. I assume you guys work full time on this project?
This and Aerosoft's Twin Otter are my two favorite projects to follow. But your daily updates are more exciting than Aerosoft's weekly's. Love your attention to details and quality!
Thank you! We also are waiting for the Twotter. Absolutely amazing bird!!!
You know, when you FIRST posted stuff on this one and the cockpit was in a "blank canvas" state, I had my doubts whether this will be a serious enough implementation of the aircraft. Since then, all doubts have been removed. Great progress on this and I am very much looking forward to it!
Thank you very much Jeremy!

It has been our old dream to make the best PC-6 ever made. As mechanical engineers, we have a profound experience in designing stuff. All previous flight simulators were intended for mediocre PCs and had too many limitations to make anything really serious. MSFS 2020 is a real game changer, and it opens a whole new world of opportunities with today's powerful PCs. Since we're mechanical engineers and not professional developers, we don't know how to make a simple toy plane and aim for recreating the real thing as closely as possible. For instance, all our gauges, like this HSI, have real-world kinematics.
So exciting to see a passionate group of devs making such a fantastic aircraft. Good luck!
How are things coming along Alex
John
Hi John! We are good!!!

Now the most important and boring phase. We are digging into the SDK and tuning the gauges animation to have the precise gauges. Not precise gauges destroy all flight simulation idea.
HSI GS indicator test:
P.S. Unbelievably but this SDK variable drives GS indicator

(A:NAV GLIDE SLOPE ERROR:1, degree)
HI Alex looking good mate
John
Looking forward the propeller beta range feature of the Pilatus 6. Super excited for this plane.
Hi Rana5906!
First we want to finish Navigation equipment, then we will make Engine gauges. With the engine gauges we will start to tune Propeller and Flight dynamics.
Regards, FSG
Hi to ALL!

After 3 days of deep SDK digging and experiments with the different variables we was able to make a precise Glideslope Indicator (GSI). We used PAPI lights to test GSI sensitivity. Now is the easy task to make the rest of parts in the Blender.
PC-6 - HSI GSI with the PAPI Lights Test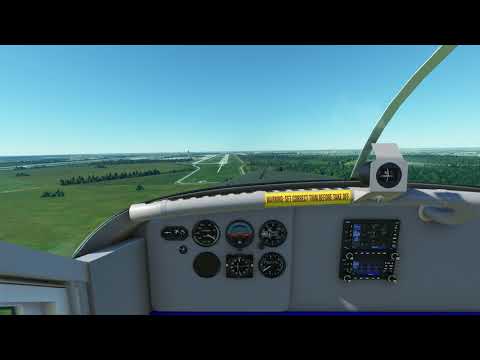 Top stuff Alex looks good
great work as always Alex!!