Thank you using the Bug section, using templates provided will greatly help the team reproducing the issue and ease the process of fixing it.
Are you using Developer Mode or made changes in it?
No
Have you disabled/removed all your mods and addons?
Issue caused by addons.
Brief description of the issue:
Recently, I have experienced disappearing arrival airports on three different flights of three different lengths, in three different parts of the world, with two different aircraft. On final approach, the FPS dropped very low, and the airport failed to load and left me with the base aerial imagery only. When the sim is restarted, the scenery loads in fine. I was using AIGTC with GSX at the time.
Provide Screenshot(s)/video(s) of the issue encountered: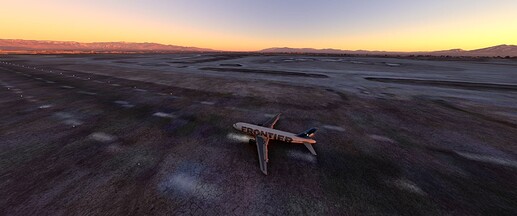 This image was provided by
@MDFlier
in the Avsim forums, reposted by
@F737NG
.
ICAO or coordinates (DevMode > Options > Display position)
LPPD, OOMS, KOMA
Detailed steps to reproduce the issue encountered:
Start Flight at large airport; 2. Run GSX; 3. Run AIGTC or FSLTL; 4. Fly to any airport.
PC specs and/or peripheral set up if relevant:
i7-12700k, 8GB 2070S, 32GB DDR5, nothing overclocked.
Build Version # when you first started experiencing this issue:
SU10
---
For anyone who wants to contribute on this issue, Click on the button below to use this template:
Do you have the same issue if you follow the OP's steps to reproduce it?
Provide extra information to complete the original description of the issue:
If relevant, provide additional screenshots/video: