Note: As the Event Calendar is not working at present, you will need to view the event from my Discord Server to determine when the event occurs for your timezone.
If you are not a member, click on this link: Aussie Group Flights Team - On-line Flying
In this event we use a nostalgic aircraft like the Tiger Moth to "roughly" follow the route of the Orient Express on it's route from Calais in France to Ataturk in Turkey.
As the distance covered with each event is kept to roughly 100nm for time management, the series spans 17 legs. We also have had to call in on small airports along the route which take us away from the railway route, to help manage the distance and time allowed for each event.
We do however, call into all the major cities along the route.
Series Legs …
Leg 1: Calais to Tille (France)
Leg 2: Tille to Prunay (France)
Leg 3: Prunay to Essey (France)
Leg 4: Essey to Houssen (France)
Leg 5: Houssen to Friedrichshafen (Gernany)
Leg 6: Friedrichshafen to Munich (Gernamy)
Leg 7: Munich to St Georgen (Austria)
Leg 8: St Georgen to M.R.Stefanik (Slovakia)
Leg 9: M.R.Stefanik to Ferihegy (Hungary)
Leg 10: Ferihegy to Bekescsaba (Hungary)
Leg 11: Bekescsaba to Saulesti-Constantin Manolache (Romania)
Leg 12: Saulesti-Constantin Manolache to Geamana (Romania)
Leg 13: Geamana to Staro Selishte (Bulgaria)
Leg 14: Staro Selishte to Burgas (Bulgaria)
Leg 15: Burgas to Mustrak (Bulgaria)
Leg 16: Mustrak to Kesan (Turkey)
Leg 17: Kesan to Ataturk (Turkey)
Leg 15: Burgas to Mustrak (Bulgaria)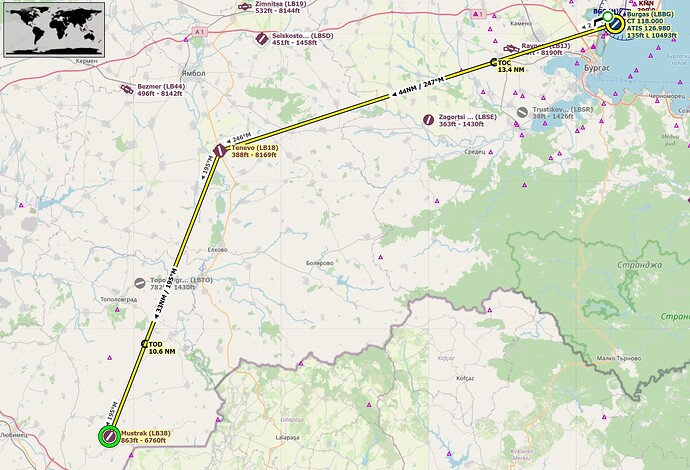 Details to follow. Hope you can join us.
PLEASE NOTE: THIS INFORMATION IS FOR FLIGHT SIMULATION USE ONLY.
Regards, Paul