This workaround is intended to give alternative buttons that work in default settings when attempting to complete Basic Training and when using the T.Flight HOTAS One and Xbox Controller.
Some buttons suggested by the Basic Training tutorial do not work.
Here's a mapping of what the buttons actually do and this is what the control instructions should say.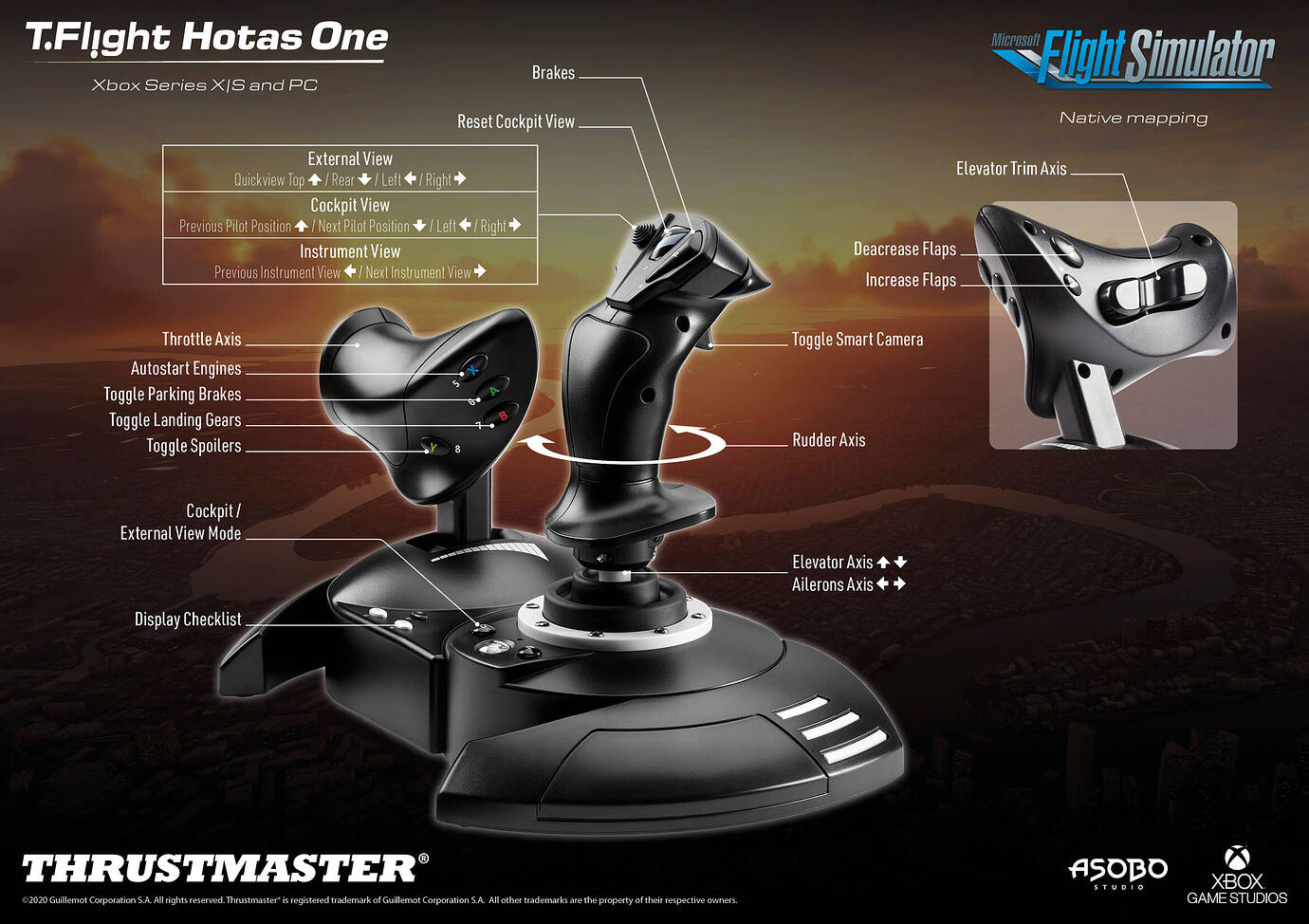 BASIC HANDLING - INTRODUCTION
You are asked ti switch to 'Cockpit View' with the (B) button. Instead try the (View) button (two little squares) to go to 'Cockpit Mode'.
Next after entering Camera Mode (holding left bumper (LB) and (X), you are prompted to go back to the original Pilot View. (B4) as suggested won't work, but pressing down the Xbox Controller Right Stick (R) does the job.
BASIC TRAINING - AIRCRAFT ESSENTIALS
In this lesson, when being asked to adjust the throttle when looking at it, it will only recognise the Controller Right stick (R) being used (not the HOTAS throttle) so just use the Controller even if you have the HOTAS (which seems to work fine the rest of the time).
BASIC TRAINING - FAMILIARIZATION FLIGHT
The first issue here is when you are asked to look around "Quickview" with (NEXT) button or the (Menu) button. Neither work. But moving the HOTAS (Hat Switch), the HOTAS' "D-Pad" switch, left/right'/forward/down looks around the cockpit.
When looking right to 'Sedona Airport', you are asked to use (A) to set the SmartCam. That's a no, but you can use the HOTAS stick trigger (F1) to set the SmartCam instead.
BASIC TRAINING - STRAIGHT AND LEVEL FLIGHT
It's worth mentioning if you aren't familiar with it, the 'Axix-5' required to adjust trim is the horizontal rocker switch behind the throttle. Holding it down at either end will adjust the trim.
TAKE-OFF AND LANDING - TAXIING
This was a mess. I have Rudder Pedals (and they usually work) but the tutorial didn't recognise them. On a HOTAS twisting the stick should turn instead (and that usually works for me) but in this case that didn't work either. Amusingly left and right stick roll did work, but the control was so hideous I switched the HOTAS off. With only a Controller it's still hard to do but at least the buttons are as marked.
ok, that's where I'm up to. I'll press on an add further workarounds as I find them.