One you're loaded into the flight, can you cancel IFR and then proceed as VFR with the loaded plan?
Yep, if you don't request IFR clearance from ATC you're on VFR and can request flight following.
Last night I had an IFR flight plan loaded from the map, and the only option for me was to contact Clearance. Even when I deleted the flight plan from the 530, it would not let me contact Ground. I had to contact Clearance, then request IFR taxi, then tower, and after takeoff I could then cancel IFR.
I tried changing and loading the LNM flight plan as IFR and then cancelling to go VFR. That works, but now I can't figure out how to contact the destination airport to get landing clearance. The "Nearest Airport" list does not show.
Hmm that's weird, were you able to then cancel IFR right after you got clearance and continue VFR?
I'll have to test but earlier you could simply jump into the plane and enter the route in your GPS and then request IFR clearance for the entered flightplan. And I remember not having had this option recently.
I've got to check this again but maybe they changed the way ATC works with VFR/IFR as well, that would be a bummer.
I think the difference here is whether you input the plan manually into the GPS after you load in or if you use the World Map prior to loading the flight. My guess is that if you use the world map, ATC is already in "IFR mode" when you load the flight.
It is, but before SU5 it was simply possible to enter it in the GPS unit manually and request IFR clearance. I haven't seen this option recently but I rarely fly with ingame ATC since it kills immersion more than it adds for me…
It is if you load it as IFR, true which is what I did. But I could only cancel that when I was in the air. Even after deleting the flight plan, Clearance was my only option.
I didn't look up the charts for the frequency of Ground. Maybe it's still an option even if the ATC menu doesn't display it.
I like flying around New York, plus l get to check out the weather there again, so I'll detest how easy it is to cancel IFR.
This was a on flight a couple of days ago. I haven't used the walkaround since. I will check it again when I refly. Probably won't be today.
I was instructed to go to FL230 in a Piper Arrow 111 non turbo and all request to descend by 10,000 feet ignored.
We need an option to ATC " unable to comply"
Just tried the IFR workaround. Changed the LNM Flt. PLN to IFR. Loaded it into the Sim. Started up the airplane. Contacted the Tower and got IFR Clearance. As instructed, contacted Ground for Taxi Clearance. At that point I requested cancelation of IFR. IFR cancelation approved. Taxied, got Tower approval and took off. Once airborne I was told by the Tower when leaving their airspace "O.K. to change frequency". Acknowledged. At that point the only communication option that appeared in the ATC window was "Contact Center". Before SU5 the "Nearest Airport list" was available. From there, I could not figure out how to contact the destination airport for landing instructions or approval.
Am I missing a step or something?
I messed up my flight plan earlier. I flicked the plane from VFR to IFR. and back again just to see if it would change anything, which it didn't seem to, but left it there, and I was supposed to be testing VFR. Rather than restart the flight, I deleted the plan from the 530, recreated it, and started digging through the ATC menus.
The only options available were ATIS, and Ground. When I went in to Ground, I found the Clearance option inside that. I would have expected that to be on the top level menu, but clearly not.
In any case I started my IFR flight, and the only point in the ATC menus where the option to cancel IFR appeared was after take-off, and I had contacted Departure.

You of course need to tune to the frequency giving clearances. Sometimes on bigger airports it's a dedicated Delivery/Clearance, others combine that on the Ground controller.
In real life at least the airliners will get their clearance through ACARS these days, a lot less talk, but there will still be an option for aircraft without such equipment.
But that's off topic
Okay, so no way on Tower or Center frequency?
For the bug in this thread the most important question would be if you can fly VFR with ATC despite having an IFR flight plan, just to get rid of these waypoints.
Agreed. That is the method that you need to follow it is a pain in the proverbial.
I usually know when i'll be using and then cancelling IFR, so i usually just set a low cruising altitude and once i hit that, then i'll cancel the IFR and go to whatever cruising altitude i want.
No, not that I saw. In fact, the only option to start an IFR flight was within the Ground/Clearance menu.
I'll retest tonight, but this time with IFR selected in the map screen, then try to revert to a VFR flight.
At the very least it looks like you can flip between the town types of flight, but you have to dig through the menus a bit.
I have the same issue since SU5 update
hope they will fix that
Just started an IFR flight from the map. The plan looks good.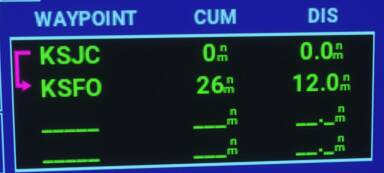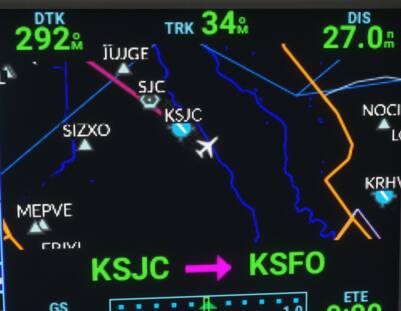 Options on the ATC menu:
Tried manually tuning to ground on 121.7 but it returns to the top menu.
IFR clearance requested, now I can tune to ground:
Now I get the option to cancel IFR immediately after requesting taxi IFR:
I clicked it, I heard nothing for a bit, then this popped up:
I heard the offline voice at that point. Menu is now this:
All I can do now is flip between Ground, and Tower. No further dialogue choices are available to me. I am in Limbo:

ATIS works but I've still got the offline non-Azure speech, and no text in the ATC window.
Ground services doesn't offer much either:

I'm just going to take off anyway, and see what happens when I'm clear of their airspace.
I still have my taxi guidance to whatever I was granted for taxi IFR: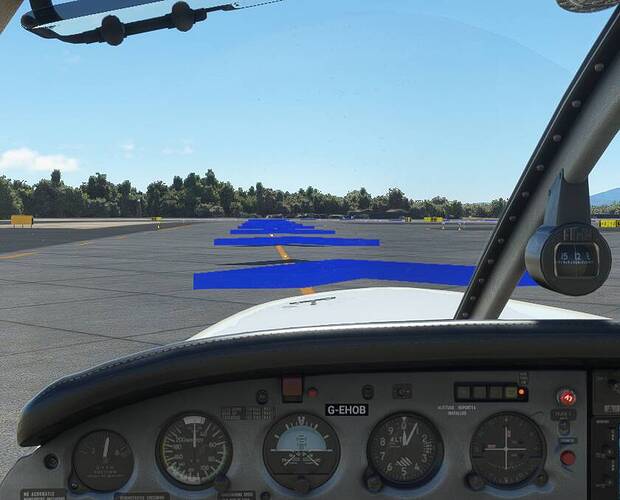 Holding short of the active I get something encouraging: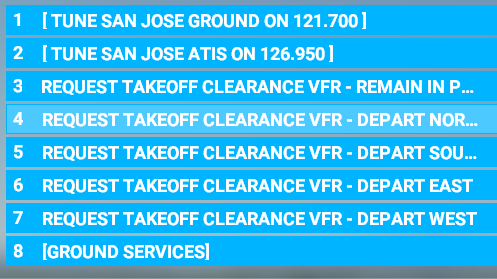 Now it gets broken again. I should have the option to either contact centre, or a specific airport. I only have Departure:
Contacting Departure gives me no menu options of any kind:
Guess its going to be a rogue landing at KSFO!
Also, I have never heard the non-Azure voices before. Why do they all sound like they are being sarcastic?
Touchdown at KSFO:
Just as I got near my parking spot:
When I responded to that menu, to request takeoff, I got the Azure voices back:
Holding short:

After taleoff the menu is still bugged. No possibility to contact other airports or centre: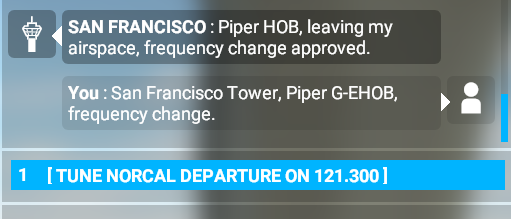 Landed unannounced at Oakland, requested taxi to parking, and had no way to acknowledge:
After many requests they cancelled IFR services!?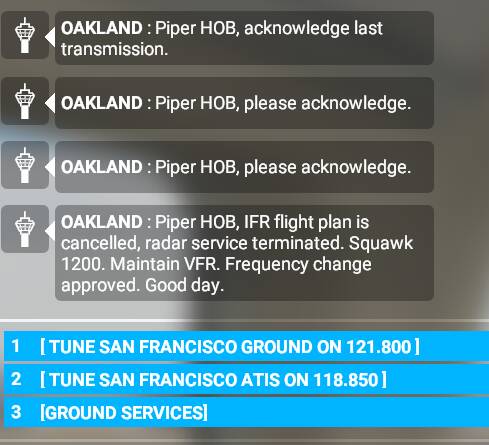 For a split second I saw the option to contact other airports, but because I'm on the ground it quickly switched:

Although for some reason it now thinks I'm no longer at Oakland:
I then realised Oakland is decommissioned, so after I took off I got the usual menu back:
It looks like even though I managed to cancel IFR earlier, that short-circuited the system, and in part it still considered it an IFR flight. KOAK was nearby. All take-offs, and landings recorded:

My conclusion from this is if you are going to file an IFR flight plan from the main menu, to tidy the flight plan in the GPS, don't cancel it on the ground. Wait until you get that option after checking with Departure, after takeoff. That doesn't upset the ATC menu like it did here.
Thanks, I am going to try what you suggested.
Just tried your suggestion about not cancelling IFR until airborne and it does work. After cancelling IFR the "Nearest Airport List" became available. Unfortunately, shortly after that I had a CTD. I don't think the fix had anything to do with that. I will try it again later. Just trying to cool down after the CTD. Never had any of these problems before SU5.