Hi there,
are you able to enter the content manager?
No, it cannot load any data, and the same goes for the marketplace.
I have restarted my PC after the sim update.
Don't know, maybe it has something to do with one of the addons in the Community folder?
I'm having no problem entering the content manager after update… that said, I am still getting "Press Any Key" as the game is loading, so the patch might not have taken.
The C152X mod was blocking my access to content manager. It's the only mod I had at the moment.
Do you have any mods? Try moving those out of the community folder and let us know if you can access Content Manger. Thanks!
I'm investigate problem. And content manager unavailable for me if livery is installed. All other type: Aircraft/Scenery/Airport/Landmark/Mod do not reproduce the problem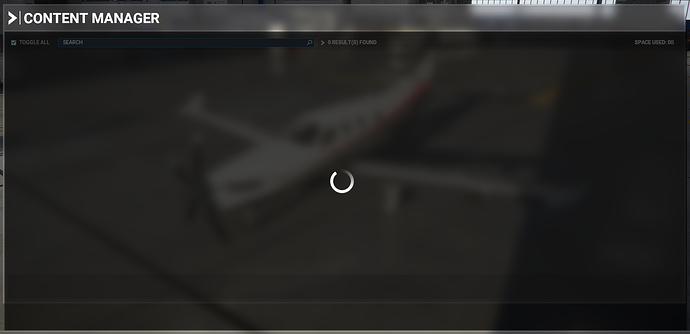 Yes, that was it.
@Jummivana if it will help other folks for now, the C152X mod is preventing the access to the marketplace and the manager, we will have to wait until the mod is updated for compatibility with the 1.9.5.0 version.
Thanks
I posted a thread earlier today about exactly this, removing mods before the patch was installed…you can only try. And at least one of the posters here replied to that thread. It's a little disappointing, to say the least.
For me its a problem with one of the C208B liveries from the Megapack 8, when i remove them it works. With the liveries the content manager hangs
dude. Problem not with removing files. Problem appear if AFTER PATCH you put files (for me it's a LIVERY) broke Content Manager
That's fine, but my advice was to remove things if you detect something is misbehaving. Now you know what to do.
As i said before. I was removed all files from community, then i put them BACK. Problem apear. And this not problem with community files. Because it's work in all previous patches
You are dancing around in circles. If you put things in the community that break some aspect of the sim, then remove them, and stop putting them back, until there is a fix.
Indeed. But, I want to find the reason and find a solution, and not deal with just file deletion.
there is two type of people.
If something gonna wrong - just delete it
If something gonna wrong - find a reason and fix it.
Thanks for all your answers. In my case it's just the addon liveries (megapack XI). All other mods are good. Maybe Asobo changed some syntax for the content manager. Don't know if it is a specific livery (or some of them, or all).
This is realy strange. Because i have lots livery what work flawlessly. But some. Two or may be three no work. I didn't find any difference.
I only have the airliner liveries installed (no GA). So that limits it a bit. But I'm to lazy to find out which ones are causing it.
Same problem here. I have ~200 liveries from the megapack installed. I removed the 208B ones completely and didn't help. I removed ALL the liveries and now I can see entries in the content manager. Thanks to all who helped troubleshoot this. I kinda love this game of each patch causing more bugs for us to find. We should have prizes and stuff.
So, after sometimes to investigate the problem, i definitely found three liveries what are broke content manager.
A320 GEOSMINA
A320 LOTFOLK
KINGAIR 350 StarShip
Keep search difference to fix problem