Any word if/when Concorde will be released for Xbox?
From the developer
"This version is for PC only right now, with an Xbox version coming to the in-sim Marketplace at a later stage."
How many times have Xbox users been let down my DEVs and Game Devs. I wouldn't old my breath for anything that is being announced coming to Xbox anytime soon
you could have known that beforehand.
Not by us. All our products come to Xbox. Concorde will be no different. However, releasing to the console and third-party stores together creates a problem if there is a major bug - third party stores can update fast, Marketplace cannot. Therefore, it's just plain good sense to release third party versions first, make sure everything's okay, then roll out on the Marketplace.
They have also stated that there are features not yet available on PC and won't be until they can make them available / working on XBOX.
I need to figure out how to navigate without a FMS before I buy it!
When DC Design Concorde will be available on Xbox Marketplace? I wont flying, turn game on, or buy anything, until this masterpiece come to Xbox marketplace. Why we must wait for such a great creation? Please do it fast, deliver fast to marketplace, I beg you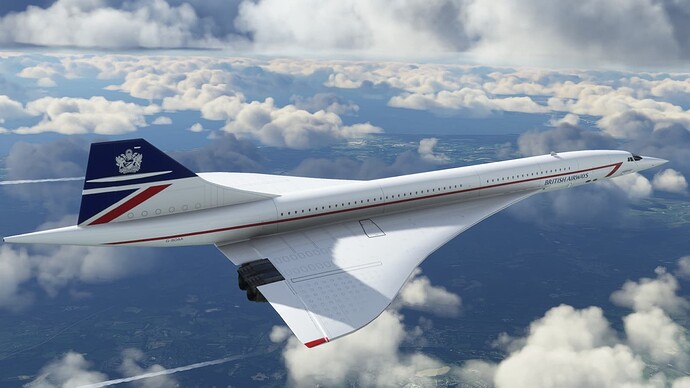 We're making preparations now for the submission to the Marketplace. Concorde's launch has been exceptional to say the least, but there are a few minor bugs and improvements I'd like to make before it appears on the Marketplace, then it will be sent immediately to them, probably next week.
Time to start studying old school navigation!

I thought I saw a link posted for the manual???

It will be a highlight to fly this beautiful bird on Xbox. I'm so glad it's coming to console
I am delighted that you have initially completed the final Concorde aircraft, one of the greatest aircraft of all time.
Regarding the improvements, it's great to have them in mind, however, send the model for approval to the xbox marketplace as soon as possible, and all corrections later as updates, let them add it as soon as possible, because we will probably have to wait for that anyway.
I want to fell that masterpiece to take off and landing as soon as possible. This is what I've been waiting for since I bought the Flight Simulator, it may even be without currently working auto pilot, cabin air vents, oxygen masks, stowage compartments, crash axe 3d model, or working lavatory lights, , but let it take off and land as soon as possible.
Best Regards,
impatient future Concorde pilot :]
(because I've waited too long for this)
I've even finished studying manuals how to boot up, prepare, final check list and get ready for take off.
IMPORTANT NOTE

If possible please add Concorde's 20th Anniversary 1989 (F-TSB) Glittering Red, White, Blue paintwork livery.

If you send me a basic, sample textures files, I can even prepare by my self, and send it back.
It would be AMAZING to fly with such a livery. I'm just wondering if it would be possible to add the metallic surface option for this painting or at least kind of chrome paint to shine and reflect.
Thank you for your hard and tedious work to be able to recreate the model and character of the Concorde. You are awesome.
Greets
Hi there, great to hear your enthusiasm for Concorde in general! Be advised that this is not a true study-level Concorde, more a very detailed mid-level Concorde. It's as challenging to fly as you wish it to be.
It also comes with a full paint kit and metallic layers, so you can recreate any of the schemes and finishes you wish
I am a bit joking with this manual study, I know that creating this model is quite a challenge anyway, I appreciate even if the operation is simplified.
I run Flight Simulator only on the Xbox console, my PC is too weak to play with good enough graphics. Only liveries that will be provided by the publisher of the add-on can be used on the console. However, I can create graphics, if only I could get the textures that I can edit, and send you back. If the end result will satisfactory for you, it could be included in the project, as the recreation of authentic Concorde 20thAnniversary paintwork.
Thanks for the answer.
Uhh, why? It comes with an FMS
Perfect! I was unaware!!
And when Microsoft sort out the WASM issues with the Xbox they'll add a period correct INS navigation system to the concorde with the option of switching it out with the current FMC implementation.
Nice! I just made the assumption that it didn't have a FMS.
While searching for material about this 20th Aniverasy painting of the F-WTSB registration, I came across the work of one of the users of flightsim.to named n0_l1m1ts. It is possible that he would agree to make his work available for your model, for free at no extra charge, with the creator annotation. Thanks to this, we Xbox users would also have fun with this painting (I note that also authentic) while flying this great model. As you know, you cannot modify textures on Xbox consoles, we can only use those that will be officially posted by the official developers of add-ons. Please consider this offer as a great bonus to your creation before it hits the Xbox marketplace, which many of us look forward to.
Best Reagrds, and Greets.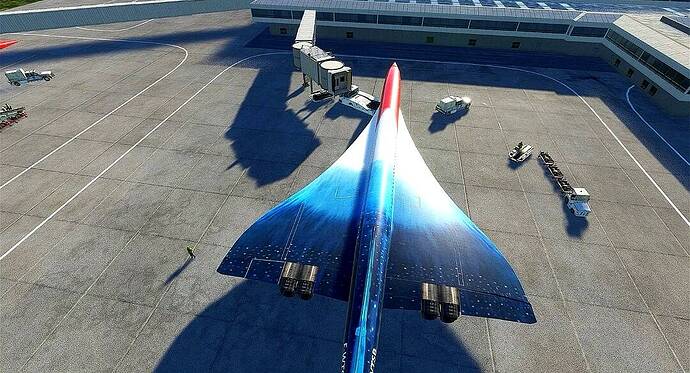 Link to Custom livery to you model:
"Created by n0_l1m1ts from Scotland"