They are investigating this.
It's the UserCfg.opt file, usually located
C:\Users\USERNAME\AppData\Local\Packages\Microsoft.FlightSimulator_8wekyb3d8bbwe\LocalCache
Scroll to the VR settings and then to this part

Change the Quality from 1 (medium) to 2(high) or 3 (ultra)
I think they need to investigate their failure in the development of the game since SU5
Yeah dude this one bites hard. Install the latest XBOX game pass app from the store and that should work as it just solved mine…what a pinta.
All mods deactivated, PG On, Ultra settings all around.
After takeoff from Les Milles airport, heading towards Aix en Provence, France:
I have never seen MSFS 2020 graphics like this.
Not a single discovery flight for Austria is highly disappointing…
Does starting the sim from inside the xbox app help?
Looks like your data streaming is off / inactive.
Has to do with render scale. Anything above 100 seems to create a double lighting, with 100 render scale the lighting is normal.
Anyone noticing the lighting being overexposed: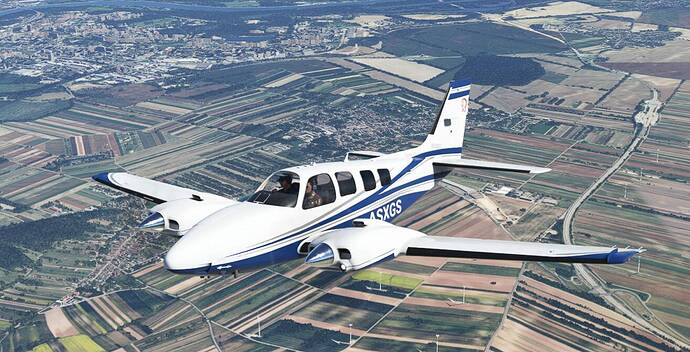 I remember that this was an issue right after SU5, but it got fixed shortly after. Am I the only one having this?
Not to mention the night lighting or the broken wind gusts…
Thanks for the quick response. off to edit.
I guess there were no VR users in the test group.
Here's another thought, I'm getting tired of playing whose bug is it anyways. I have a limited amount of time to play the sim, and when I do, I shouldn't have to figure this ■■■■ out! The devs need to simply figure out how to release an update that works.
I'm sitting at airports with no jetways, bugged atc, looking at an odd white pointer in the middle of my screen. Every time I use the xbox controller (on PC) my mouse disappears to the upper left of the screen.
I paid good money for this sim (as did everyone else) and we need to have a working sim after a year. That is not a me me me attitude, that is I parted with hard earned money to not be ■■■■■■ off after every flight because this sim has stability issues. I am done sugar coating how I feel about the devs and this sim.
I have absolutely no CTDs now but had more than ever in Feb and March lol
The Xbox app download didn't work for me. Still no way to update the sim. Doesn't pay to get up at 5am to grab the update before the day starts.
server load - frequently happens straight after an update - the streaming data isn't able to keep up - or your setting for onlinbe data have been turned off by the update - it can happen
No, I have that too. Ever since SU5. Very annoying.
Switzerland is just pure eye candy now. If only the rest of the sim could be as good looking as this. There's just a few things that let it down for me. The terrain morphing is pretty extreme. It does make a difference cranking the new pre caching function to ultra though. Can't say I noticed much performance drop either.
Its a shame the area round the Eiger was photographed in the winter and is therefore perpetually covered in snow. I love that area but its a shame its eternally winter there.
Haven't explored a whole lot more yet. Quick flight round Vienna. Its great that the whole area has PG and the quality is pretty decent. I know how much of a trade off there is by having high res PG versus performance and they seem to have it about right for such a large area of coverage. I'd love to see London and Paris given this treatment.
Update worked fine. NYC building details not there - were this am with same settings prior to update.