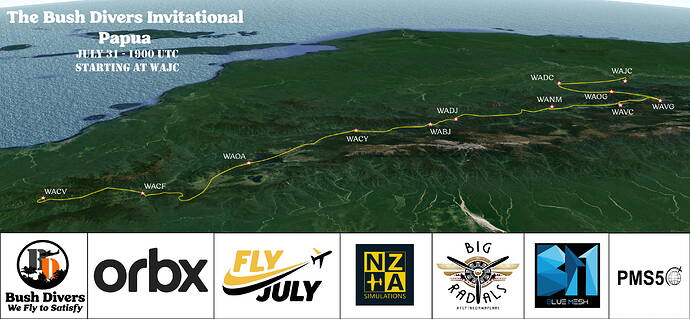 ---
In Honor of
#FlyJuly21

, Bush Divers would like to invite all to join us for the Bush Divers Invitational - Papua

This week the Bush Divers are helping close out FlyJuly21 with a trip that is near and dear to the Bush Divers community. We will be touring the mountains of Papua, Indonesia from WAJC to WACV. The amazing island of New Guinea is home to some of the most challenging airstrips on Earth, with unpredictable weather, tight approaches and plenty of trees to dodge. It is also where Bush Divers call home, with our VA side based out of AYMR Moro in Papua New Guinea and WAVG Karubaga in Papua, Indonesia. We hope you all can join us as we send off FlyJuly21 with a very special Bush Divers fly-in, either in the seat or our livestream.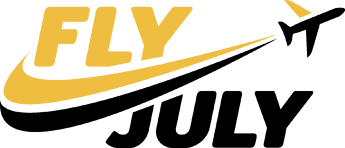 As an Official FlyJuly Event, we will have a total of 6 winners for this week's giveaway! Winners will have a selection of anything (except bundles) in the Orbx Catalog!
---
Server: US-East
Special considerations:
-In the spirit of Bush Divers operations in New Guinea, we recommend the use of the C208B. However, as always, you are free to choose the piston or turboprop aircraft of your choice!
-For those who will be joining us in C208B Grand Caravans, we highly recommend picking up the Bush Divers livery made by our own aeroplane artiste, SixPackPilot.
-WAJC offers a few ramp parking spots, but please spread out to avoid overcrowding. We will be departing WAJC on Rwy 06.
-Live Weather, in typical New Guinea fashion, will likely be abysmal. We will leave this up to pilot discretion, but we will recommend a partly cloudy/scattered clouds preset to ensure scenery is visible. Local time will be 0900.
-It is recommended, for the best experience at each of our stops, to download the airfield pack created by our own airport artist, HaveDoughnut. (This file has been updated since initial release, please download the new version if you haven't already done so.) Western New Guinea (Papua) Airports » Microsoft Flight Simulator
-Bush Divers also encourages the use of Volanta, a great flight tracking tool which Bush Divers have been using for months: Get Volanta
-Those interested in participating in voice comms can join us in the Bush Divers Discord event voice comms channel.
-Those who are unable to attend can always join us for the livestream of the event, drop in and say hello!
-We would appreciate your patience during this fly-in. The 1900 UTC start time will not be a hard constraint, we may hold at departure for up to 5 minutes. Our goal is not to leave anyone too far behind. So take it easy, get you a drink, and enjoy the trip!
We hope you can make it!
For more Bush Divers stuff, check out our Discord .
Additional files:
MSFS Flight Plan: BDI - Papua.pln (21.5 KB)
LittleNavMap Flight Plan: BDI - Papua.lnmpln (16.5 KB)
Additional: Considering some of the known issues with the sim post-update, please be sure to review the issues list to ensure we have as smooth an event as possible!