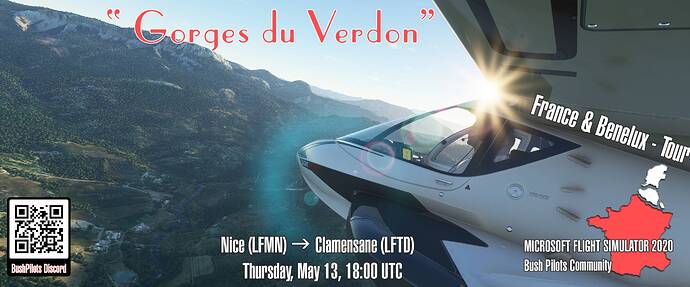 Departure: Nice (LFMN)
Arrival: Altisurface Clamensane (LFTD)
Flight Length: 143 nm; approx 2 hours
Altitude: 5500ft max
Aircraft Type: Single prop / anything slow recommended (This leg is also suitable for the H135).
Cruising Speed: Around 100 KIAS
Time & Weather Setting: 05:30AM; Clear skies/Few Clouds/High Level Clouds recommended
Server: SOUTH-EAST ASIA
Multiplayer Settings: All Players
Date: Thursday, May 13th
Start Time: 18:00 UTC (Zulu)
Voice Chat: "Event Flight" voice channel on the MSFS Bush Pilots Discord Server - https://discord.gg/BxpzJRfkaW
Description
Welcome to the beautiful city of Nice, directly next to the Mediterranean sea.
We had quite the long trip last week. So, this one will be shorter.
But because we don't want to be done with it within the hour, let's make sure everyone has a plane capable of doing 100 KIAS.
We are at Leg 5 but still in the south of France. There is just so much to see here.
However, this is going to end, as we start going north. Say Goodbye to the Mediterranean sea, beacuse this leg will be the last of it.
We've flown 643nm so far and we have more than 1500 to go.
We take off and head East along the coast to make our way to Monaco. After that we have to circle back over Nice and head into the mountain range North-East of Nice.
We will fly through the "Gorges du Verdon" (The Grand Canyon of Europe) and the "L'Unesco Geoparc de Haute-Provence"
This week we end at an Altisurface, its a short landing so be careful!
In-Flight Entertainment
There will be only grass landings along the way. We recommend turning crash damage OFF.
Recommended Addons
See the #addons channel on MSFS Bush Pilots Discord server for recommended planes, mods, liveries and UI tweaks. Even if you don't use all of them, it's practical to have these to see others properly.
Additional Addons
See the #france-benelux-tour channel on MSFS Bush Pilots Discord server for additional addons such as POI Markers and scenery specific for this tour.
ABOUT LOADING FLIGHT PLANS
We recommend NOT changing the spawn location before loading in, as it can possibly overwrite the flight plan, turning it into a straight DIRECT GPS flight, or the autopilot will not follow it. Leave the flight plan as is, spawn on the runway and park somewhere nearby until take-off.
FLIGHT PLAN
France - Leg 5 - Gorges du Verdon.pln (9.0 KB)