Brown Field Municipal (ICAO: KSDM) is located 1.5 miles north of the U.S.-Mexico border in the Otay Mesa community of the City of San Diego.Brown Field Municipal is a busy general aviation airport. General aviation encompasses all aviation except air carrier and military, although the military continues to maintain a strong presence (look at FA-18!). The types of general aviation aircraft that operate at Brown Field Municipal include private, corporate, charter, air ambulance, law enforcement, fire rescue, flight training, cargo, skydiving, banner towing, helicopters and… airships.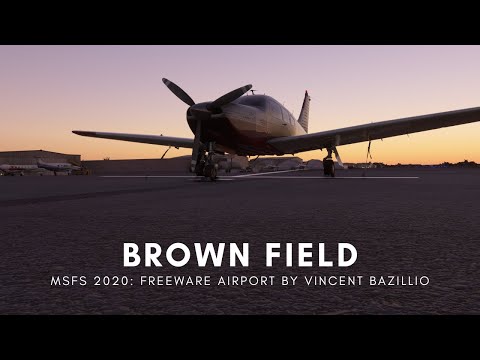 All types of aircraft are welcome with the 7,972 ft main runway. Even the famous Concorde and AN-2 landed there. Fuel (Jet and Avgas), plenty of hangars, maintenance, ATC in effect, 2 instrument approaches and RAIL, HIRL lightning.
Free to download at: San Diego Brown Field Muni (KSDM) » Microsoft Flight Simulator
Author's note
As for all of my MSFS mod, this small scenery is made from a pilot-eyes perspective. In real, I'm a Plus One Flyers member and mostly fly from Montgomery Field. I'm real PPL but a rookie amateur scenery developer: this mod is made with 99% of MSFS default objects library and feature massive number of details. The scenery is inspired by high resolution aerial views from Bing and Google maps. It's a mix between the satellite imagery displayed from MSFS and more accurate data found on Internet. 1000+ objects have been added to the default scenery to make in more live and bring a touch of an active area.
Features
Add all fences border all around the airport
All taxiway markings verified and redesigned if needed
Add generic buildings to replace autogen MSFS
Add resurfacing patches on runways
Fix PAPI position
Add ATIS (132.35), Ground (124.4) and Tower (128.25) frequencies
Add some banners and signs on public side/business area
Add +800 objects manually set
Remove several spikes around the field, cleanup of some monolith trees close by the field
Remove un-wanted blue light poles and fixe taxiway width
Fix pattern circuit's position
Fix and correct windsocks
New ground markings on apron (mixed between uptodate and older satellite imagery)
Add Cafe Landing Strip, First Flight School, Altitude Helicopters, EAA Chapter 14 hangars and apron
Add AVFuel and Philipps66 (First Flight) fuel spots
Add plenty of static planes at First Flight school apron (as real as pictures and satellite imagery)
Simplified version of US Customs and Border Protections Air Unit (north side of the field)
A lot of Helipad available (training on south east side and USCBP Air Unit at the North)
F18 at the ramp, as real as it gets (see below)
Free to download at: San Diego Brown Field Muni (KSDM) » Microsoft Flight Simulator