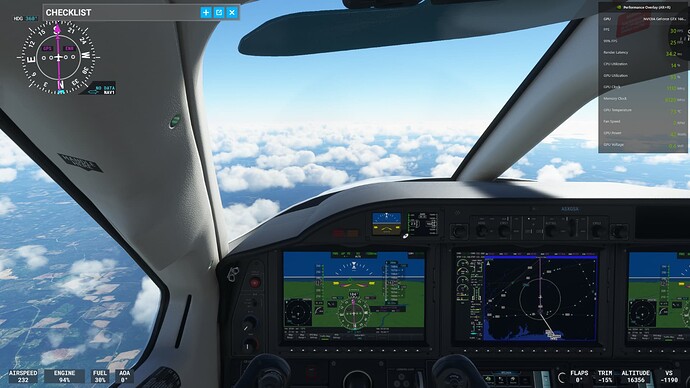 I have an Asus G15 laptop that has a Ryzen 7 4800HS, 1660ti, 16gb, nvme. It can drive a 4k monitor. After a LOT of experimenting, I found this setting to be optimal…
Limit 30fps in the Nvidia control panel
Native 1440p resolution from desktop
Full screen 1440p resolution in the sim that matches my desktop resolution
Reduce to 85% render
Generic "Medium" setting with clouds set to "Ultra"
As you can see, I get 30fps (everywhere… including taking off and landing… that part you'll have to take my word for it), my GPU stays in the 90% - 95% range and my GPU temp stays in the low 70's. I found that by increasing various things, the only thing that really changes is an increase in the GPU power and voltage which does nothing except make my GPU temp run hotter in the low 80's. Same with "more FPS". Same with increasing sim resolution from 85% of 1440p to say, 90% or 95%. No noticeable difference visually but the GPU power and voltage go up considerably which raises the GPU temps into the 80's.
Hey also…
I normally run my day-to-day resolution at 4k for what I do. I make sure to change to 1440p before launching the sim but I wondered if leaving my desktop resolution at 4k would cause my GPU to work any harder if the sim ls limited to 85% of 1440p. Answer: Yes! My GPU temp averaged almost 10 degrees hotter (in the lower 80's).
So for me, I have to make sure to change my desktop resolution to 1440p before launching the program and as long as I do that, using the settings I mentioned, I can get pretty decent quality while also keeping my laptop GPU from catching the whole neighborhood on fire.
PS - I don't know much about the clock(s) and latency but I'm guessing I'm in the ballpark given my setup. Any comments to the contrary or suggestions are always welcome.