You're on the right track. Can you find the exact spot, i.e. the name of the park or the area?
Now your asking for something… I don't know London (only been once when I was very young like 30+ years ago). I dunno, wild guess Hyde Park, only because its the only park I know. LOL
Weavers Field, Borough of Tower Hamlets, Greater London
Ah, I see, hehe. I use the Map app to search for the exact locations. It's quite useful as it (mostly) uses the same imagery as the sim.
That's right.
About 10 years ago I had an excellent English breakfast in a small restaurant in the high street at the top of the screenshot. It came back to me the other day, that's why I chose this place.
Your turn.
Oh my! … that's the worst case of hiccups/food poisoning I've ever heard of

clumsy wording I know.
Yup, I think I was out of order though. LOL.
Hehe, yes, but Archer has posted his screenshot so it doesn't matter. I'd have given my turn to him anyway.
That is so funny!!

That's a tricky one. Could you perhaps give us a hint?
Sure thing. Try Mediterranean.
Isola Sant'Andrea, Italy ?
Exactly. I would have accepted Gallipoli as well.
Your turn
Well done. I checked Apulia but stupidly only the eastern coast
Before getting the hint, I had checked the whole Florida keys, Bahamas, Turks/Caicos islands, and French Britanny as well.
OK, next one :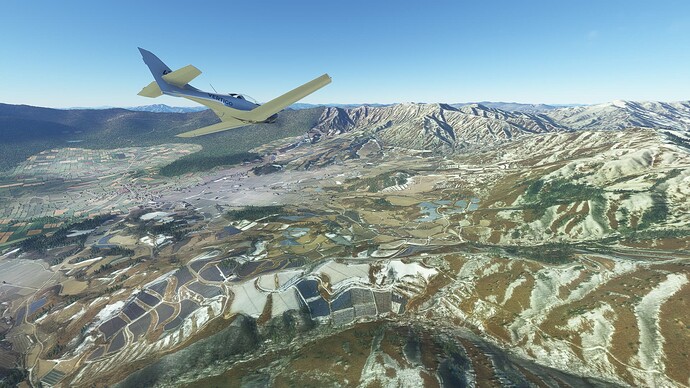 This place is quite strange in MSFS… seems that the servers have split it in the middle with half shaded as a cartoon, and the other photorealistic.
That was my first guess as well. Then Portugal and the Med.