I shimmed the frame on each side of the ladder members. Works great.
Sorry. It's € 89.90.
Normally computer stuff like that is more expensive in Europe than in the U.S. - or at least I'll cost the same in € than it'll cost in $… probably just a glitch in the Matrix
It's been a while since the last news on the rudder pedals . The dust cover and GA trim wheel are nice additions to the Alpha and Bravo but I wonder where March 31st release date comes from.
I have used the TFRPs before when I had my Thrustmaster HOTAS setup. The pedals are very close together. If you're ok with that, the pedals work fine - but for me I want my feet further apart.
I can understand that. They really are close together. I like that they are very light and can be set aside easily and hidden under the table, when I need to work. But all things considered I probably would prefer them to be a little farther apart as well. But I'm also not ready to pay 250,-€ or more for pedals.
Any release date on these yet? Waiting, Waiting…
I don't get the wanting the pedals further apart thing. Have you looked at the gap between the pedals in a Cessna 152 or 172?
Well, if you're going for "as real as it gets" and fly the Cessna 152 or 172, then get the narrow ones.
I'm a big guy. 6'6" / 198cm. When I have to "pinch" my feet narrower than I would comfortably stand with them apart, it's uncomfortable. I am pretty sure I don't fit in a C152, and a C172 would probably be a squeeze for me.
I had a set of the Thrustmaster TFP pedals back when I used to have my Thrustmaster A-10 HOTAS setup, and I found it difficult to control. My hope is that the Honeycomb Charlie pedals are comfortable enough for me to use that I want to fly with them all the time!
Thanks for the update, @saschpe! I am really, really happy with my Honeycomb Alpha and Bravo, so expectations are that I'll like the Charlie as well!
It looks like that we will get some new updates with XPC Alpha and Charlie Rudder Pedals after the AERO Friedrichshafen (from 27. - 30. April 2022) in Germany. Hopefully the Charlie will be released on this summer, when a bunch of new airliners released.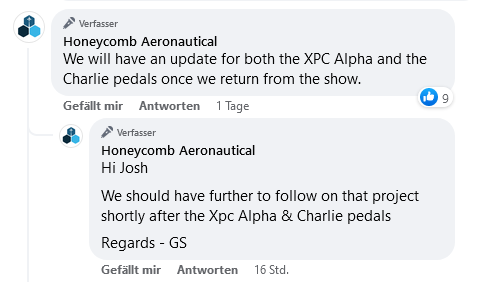 Just saw an article about AERO 2022 at Fselite.net
It seems we got some new dates now:
Charlie pedals should be on pre-order in July (shipping in August)
Alpha XPC shipping in July
XBOX-Hub July too.
Woohoo! I can't wait to be able to pre-order them. Can't have the Alpha, Bravo, and NOT the Charlie!
Holding out for the Zulu here

It's great that They are finally getting these products to market, but I do think they need to also focus on their abysmal customer service.
Improved alpha with better sensors and a spring loaded starter. I'm not sure anything else is known yet.
Oh and Xbox compatible
This. 100%. I love their products, but their customer service really needs improvement.
(edit) Finally got in touch with the manager of customer service. They acknowledged the delays and are working with me.
Available for pre order… NOW!!! Delivery Nov 3rd 2022
And here:
EDIT: Just pre-ordered one here, because I could redeem a discount voucher at this shop. € 359: Expensive, but not too bad.
And here: