i called it…
4th quarter 2022
Just got the announcement, they are now available for pre-order on Honeycomb's site.
The Charlies go on pre-order July 15th!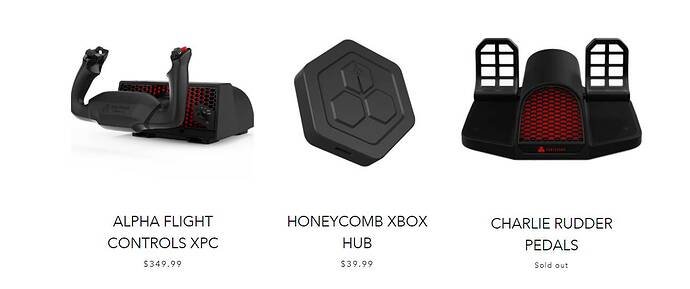 They could have told me that last week when I asked them…
I'm holding off until the game is fixed though
Great gear, iffy reliability, terrible customer service…. Unfortunately
Hi to all. Is it possible to connect to Honycomb hub a logitech or saitek peripherals?
Tks
most probably not, but I think there might be a hub coming for thrustmaster with logitech throttle support.
i think this is great news, it's a great periphal
what bothers me a lot is the inability to use the Thrustmaster pedals by plugging them directly to xbox, so one is forced to get also the honeycomb rudder pedals which increase a lot the overall cost
i do really hope that this is something that will be eventually sorted out since it seems there's no alternative aside from plugging them into the hotas one
Does anyone know if the hub will work with the Alpha yoke I got a year ago or would I have to invest another $350 in the new XPC version (and what the difference is)? The Honeycomb website is scant on details.
Aww piddle. Well, I guess that's not happening, I can't justify $350 when I already have a practically brand new yoke.