SAVAGE GRRAVEL - MONSTER TRUCK IN THE SKIES
The Savage Grravel is a monster truck in the skies, heavily inspired by and paying homage to Mike Patey's Scrappy. She's got a converted Ford Mustang 230HP 2.5L V6 engine, a massive 7 foot Whirlwind STOL optimized prop and 35" Alaskan Bushwheels.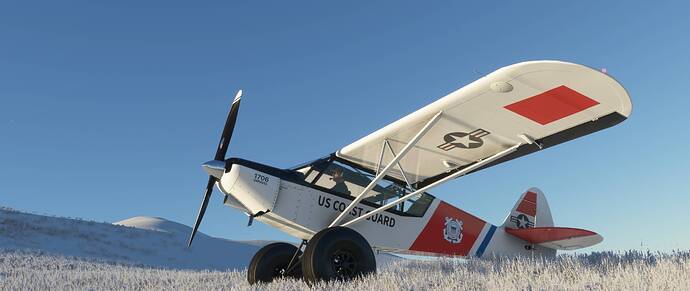 Grravel is a beast of a STOL machine, essentially a monster truck version of the Savage Carbon. She's heavier, more powerful, and just…more extreme. She comes with 3 exclusive liveries.
230HP 2.5L V6 "Ford Mustang" engine, adapted for use in a cub.
35" Alaskan Bushwheels.
Massive 7 Foot prop.
2 x 27 Gallon tanks to feed the thirsty V6.
Reinforced structure, higher MTOW.
100lbs heavier than the standard Savage Carbon.
Comfortably cruises at 130kts, punch it to hit 150.
Sustained climb rate of 3000fpm.
800nm range at sea level at 4000RPM.
Wider wheelbase.
King Shock absorbers and upgraded suspension.
Powerful disc brakes.
A 3rd monster flap (60 degrees!) so you can fly slower approaches, with higher sink rates, giving you 15ft landing bragging rights.
Flaps move faster so you can pump them for short take offs and retract them at touchdown for maximum braking power.
Supurb ground handling.
Vortex Generators on wing and tail are accurately simulated, delaying stalls and enabling those slow STOL approaches.
And of course, she can Water Ski.

---
EXPEDITION ALASKA 2021
Embark on the adventure of a lifetime that will see you and like-minded pilots journey from the north of the United States through British Colombia and on to the wilderness of Alaska. During this epic journey we will encounter some of the most amazing scenery our planet has to offer.
This event covers over 5,500 statute miles, 30 airports and should take about 4 to 6 months to complete.
It will be hosted on the Got Gravel Discord Server.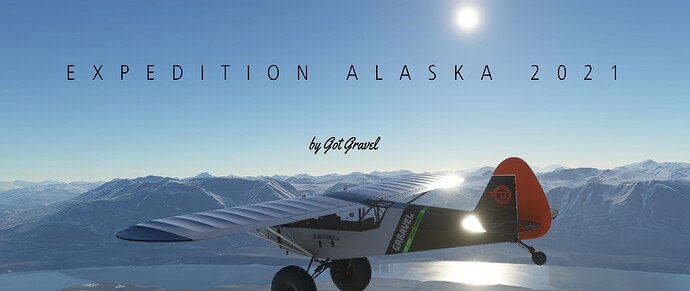 ---
BE A SUPPORTER
Grravel is free and always will be, but if you enjoy it and feel you want to contribute towards this ongoing project it will always be appreciated.
---
AUTOPILOT (BONUS)
Grravel has no autopilot installed (you will find none in the cockpit), but for your convenience I did tune and test the configuration for a relaxed experience. However, it is disabled by default.
To enable, follow the simple instructions below. You will also need to setup and use your own keybinds for autopilot on / off state, altitude hold and heading hold if you haven't done so yet.
Go to your community folder.
Go to gotgravel-savage-grravel / SimObjects / Airplanes / Asobo_Savage_Grravel.
Open the file engines.cfg in a text editor.
Go to the last line and change the 1 to 0 (DisableAutopilotControls = 0).
Restart sim if it was running.

---
CHANGE LOG
Changelog v1.2.1 (HOTFIX / Jan 13, 2021):
Fixed the names in the aircraft selection making it now very clear which is a Savage Grravel and which is a Savage Carbon. Essential now with the new drag & drop community liveries coming in.
Languages other than English now have their aircraft manufacturer and model correctly displayed.
Language aircraft description for French has been translated.
Changelog v1.2.0 (Jan 5, 2021):
Support for Drag & Drop liveries! This means you may expect many more liveries coming from the community which now simply can be added to the Community folder like any other mod. This also means all liveries are now in alphabetical order.
Tuned the default Quickview, Fixed and Instrument cameras for an immersive experience. Cameras will now accurately follow the eyes of the pilot based on where his head would be with a certain motion.
Updated pilot head position for VR to accurately reflect where the pilot's eyes would be.
Changelog v1.1.3 (Dec 29, 2020):
Two new liveries: Snowpiercer and US Coast Guard
Improved VR experience for inside the cockpit with better textures and a bit more polish
Default luggage weight increased from 40lbs to 80lbs (more realistic and it's a great counter balance to combat nose-over tendencies)
Changelog v1.1.2 (Dec 23, 2020):
---
INSTALLATION
First of all make sure the default MSFS Savage Cub is installed, this mod depends on it.
Delete older versions of the Savage Grravel mod, if any.
Extract the ZIP file.
Drag the folder named gotgravel-savage-grravel directly into the Community folder.
Restart the sim.
You'll find Grravel in your hangar all the way to the right near the default MSFS Savage Cub.
If done correctly, your folder structure should look like this:
/Community
   /gotgravel-savage-grravel
      /RTC
      /SimObjects
/Official

How to find the Community folder?
If you changed the default location of packages, it's the simplest because you should find a Community sub folder in it.
For Steam, it should be located in C:\Users[Computer Name]\AppData\Local\Packages\Microsoft.FlightDashboard_8wekyb3d8bbwe\LocalCache\Packages\Community.
For Windows Store C:\Users[Computer Name]\AppData\Local\Packages\Microsoft.FlightSimulator_8wekyb3d8bbwe\LocalCache\Packages\Community.

---
CURATED STOL LESSON VIDS
---
PERFORMANCE
Most of this information is also found on a placard on the left side inside the cockpit. All performance data was obtained at sea level under ISA (clear skies) and MTOW (Maximum Take Off Weight) conditions.
Power Settings
TAKE OFF POWER 5800 RPM
MAX CONT POWER 5500 RPM
72% POWER 5500 RPM
60% POWER 5000 RPM
V-Speeds
NEVER EXCEED SPEED (VNE) 160kts
CRUISE SPEED (VC) 130kts
MANEUVERING SPEED (VA) 120kts
BEST CLIMB RATE (VY) 65kts
MAX SPEED FLAPS (VFE) 70kts
STALL SPEED CLEAN (VS) 35kts
STALL SPEED FULL FLAPS (VS0) 30kts
BEST POWER OFF GLIDE SPEED (VBG) 50kts

---
CREDITS
The Savage Grravel is an ongoing project by Got Gravel.
Flight testing by experienced real-life pilots avaricooper and roketJsquerl.
Selected Videos: