Ok shout out to @theVRpilot Jose for his post POOR MANS VR Tutorial - (Until we get NATIVE support)
So I decided to give poor mans vr a go, and as MRTV would say, all the details are… coming up!
*** musical interlude ***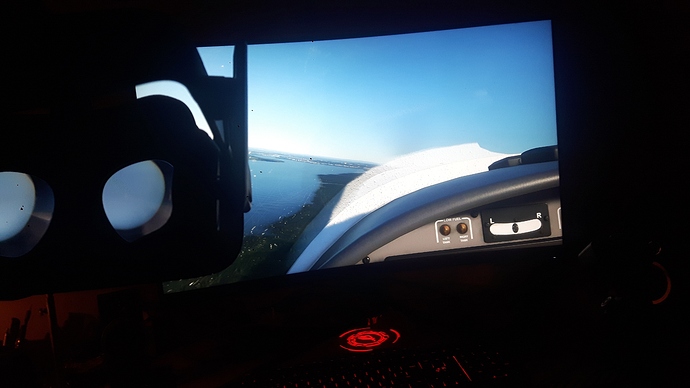 First off my machine specs, Intel 9900K, 2080Ti, 64GB RAM with an Oculus CV1.
The post above explains probably better than this post but this is really easy. You'll need the following software, opentrack acts like TrackIR in the VR headset, really cool.
Virtual Desktop (you'll need to buy from Steam but it's pretty cheap)
If you use the Oculus Store like me with the Oculus CV1 then you can't run two programs using the Oculus SDK so I had to run Virtual Desktop from Steam instead which I had to buy but I'll be moving over to the Steam platform anyway when my HP Reverb G2 arrives
In Virtual Desktop make sure Snap to Horizon is on - that keeps the screen level. My screen was pretty huge and although you can wrap around, I didn't do it too much as it did distort the image, but if you play with the settings I'm sure you'll find something you'll like.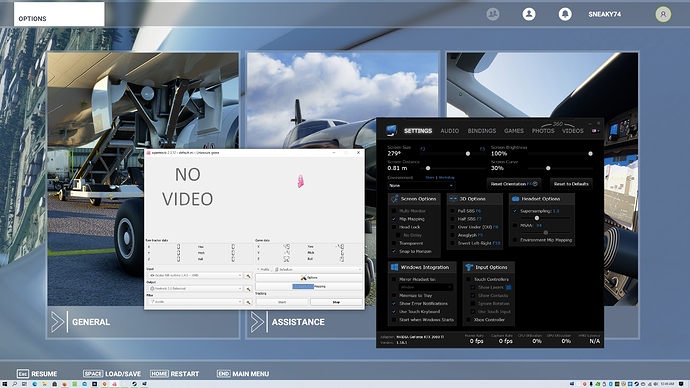 Once you have the screen as you like in Virtual Desktop, load up Opentrack and select the appropriate input and output - that's it until you get into the cockpit.
Load up Microsoft Flight Simulator and load up into the cockpit. Alt tab out to switch to Opentrack and click the Start button to start the tracking. If you are in the correct location tracking should be centered. If not stop tracking - get comfortable again and click Start tracking.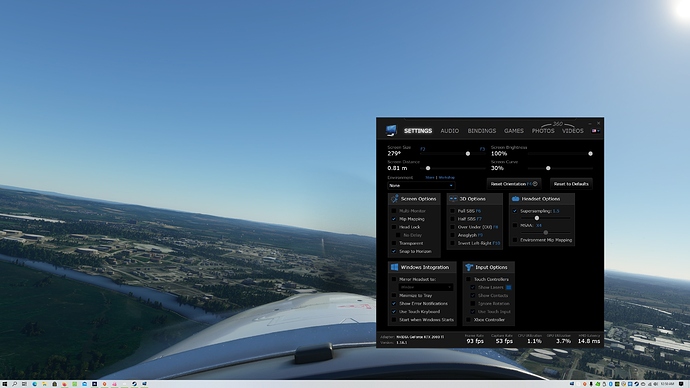 Some observations
Frames were great, I was getting around 50fps reported in MSFS flying around Liverpool in the UK - I didn't change my settings at all. High and Ultra settings - Rift was capturing at 93 (I'm guessing it was using frame doubling tech) and I had Virtual Desktop supersampling at x1.5.
Even on the original Rift ground textures looked great and the cockpit modelling is amazing!
Water is amazing, especially near the coastline, the masking and shallow water effects really looks fantastic, like much better than you'd expect.
Opentrack works even better in VR than TrackIR - I think because you can make the screen so big - a little wrapping also helps but can distort the image if you get it wrong.
The lighting is even more amazing in VR, with X-Plane there are lots of quirks with the graphics and the lighting can be terrible in the cockpit - I had none of that in MSFS.
This is obviously a poor mans VR, it's not 3D but it is emersive and the performance even if it's only in a Rift CV1 on a virtual desktop leaves me confident that it will be ok on higher end HMDs.
So have you guys tried this yet, let me know - it's a lot of fun until the real deal arrives next month.