People are always asking about hardware upgrades and getting a lot of speculation in response. So FWIW, I thought I'd do one and post some actual results. I have an RTX 3080+Reverb G2 and was fairly unhappy with VR performance. Choppiness, stuttering, etc. I decided to blame my i7-8700 (locked).
Before I upgraded, someone on another thread was like, "didja disable virtualization in ya BIOS?" I'm like "meh, snake oil." But tried it, and that got me a big improvement. Stutters gone!
With cash still burning a hole in my pocket, I bought an on-sale i7-11700 at a place with a solid return policy. Another big jump.
Results (8700 w/ virtualization enabled/same w/o virtualization/new CPU):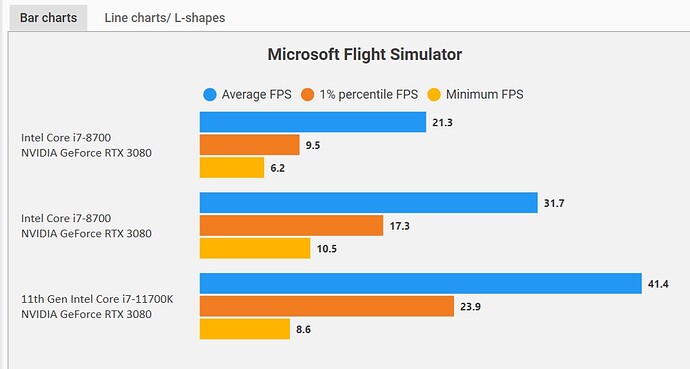 Now I can comfortably fly at 30fps with 90% in devtools, 80% in-game with 100/100 LOD. This leaves me comfortably GPU-bound and with enough CPU headroom to crank up traffic and other goodies.