Dear MSFS community, I write about jetway issues because I love ground services and the immersiveness they produce.
The problem
Animation:
Since SU5 we, PC players, are experiencing many bugs and jetways are not spared. Now when I call a jetway the head instantly tilt forward (please see screenshots under). This is not realistic (ugly if I can say it) and cause a shift with the aircraft door letting the hood penetrate the cockpit.
To be honest, this only occurs at first call but is annoying and do not resolve all the issues.
Screenshots for example, here at LFPG (standby, called and linked)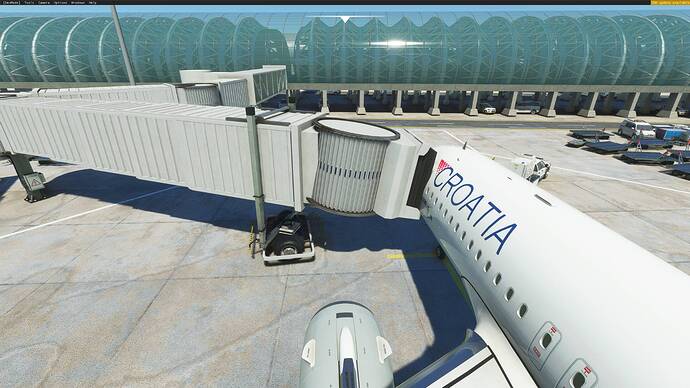 -LODS:
I also noticed that parts are disapearing and jetway position is reinitializing depending on camera distance and position. I suspect Asobo have added more LODs to increase performance and it is not well managed. I hope they will also fix that.
-Loading:
Since SU5 again objects loading is no more well managed, often jetways do not appear and I need to restart (one time or more) the simulation. Loading of other objects is no more optimal.
For info: specs, build and version
CPU: AMD Ryzen 7 3700X
GPU : AMD Radeon RX5700XT
RAM: 32 GB
MSFS build & version: 1.18.15.0 from Microsoft Store
I have not yet submitted a ticket to zendesk.
Thanks for your time.