Have you solution whith this joystick!
hi, i have it and it works great, i am very happy with it. what is your concern?
Merci,souci de reconnaissance par FlightSim2020
tu est français? j avais contacté le support technique qui m avait envoyé le driver recent
voici le lien de leurs site avec le pilote d installation qui va bien
http://www.e-pxn.com/products/arcade-stick/pxn-2119
je n ai pas eu de souci particulier si tu as besoin n hesite pas surtout
Pour l'instant je me contente de mon T16000M et de mon Hotas.X car mon nouveau PXN2119 reconnu par W10 ne l'est pas par FS202!Attendons un correctif par les super doués de ASOBO ou autres!
Merci pour ta réponse!Pour l'instant j'ose pas utiliser le lien car Interdit par MicrosoftEdje!(site dangerux)
non tu peut l utiliser il n y a aucun souci, il n y a aucun probleme. perso j utilise le mien avec beaucoup de plaisir et il fonctionne vraiment bien. le seul hic c est que la joystick est un peu court et j ai du mal a y passer la main…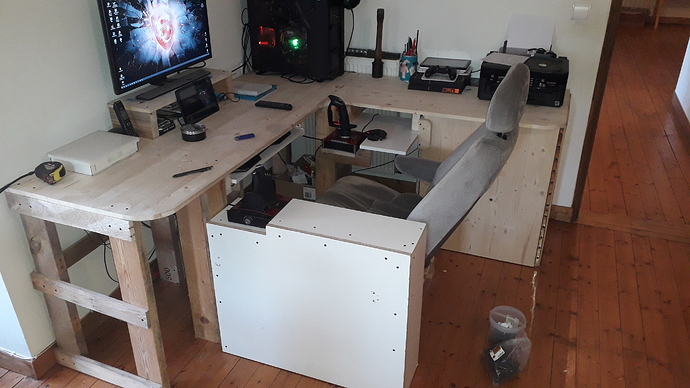 Whouuh pas mal ton poste de pilotage!Bon vol!Merci
merci, j ai monté le coté gauche sur charniere, il me manque 2 ecrans et ce sera pas mal!!!
I dare not open the PXN2119 driver because W10 does not want to pretend thatit is a risk!Hve you had this problem!Is there a solution for my joystickt to recognized by MFS2020!Thank you all and good flight
as I told you I had exactly the same problem and after having contacted the technical support of pxn no problem. on the other hand just something I just thought of when I turn on my pc I have to unplug and re-plug the usb of the joystick otherwise it is not recognized. namely that win10 blocks a lot of things for no reason
OK good I lay out now 3 joysticks !Thanks and good fly!T16000M/Hotas.X/PXN2119
great I'm happy for you, have fun
According to the Code of Conduct, English is the official language in the forums. The one exception is allowing members to use their native language in the #multiplayer category.
Please take this into consideration as you continue to participate in the forums. Thank you.
HelloI I speak english the most of time!Excuse me!
Hello since new patch,Ihve problem sensibility for PXN2119?How ruled this
Hello,with me since new patch sensibility have changed !Ihave problem drive 172/152!
Have you rule Sensibility for joystick!Thank