Yup I have the same problem. 3440 x 1440 res. it looks horrible.
Same problem for me. Stretching menu. New from this patch
here als well, ingame 4k, Menu screens looks like 800x600 but worst of all are the menu selection images/fonts. . . totally pixelated. Looks not like before.
Hi everyone,
Please provide screenshots if you're experiencing the same issue.
This will help us seeing what is the actual resolution you have. Also, try to tweak the resolution and see if this solves the issue. Thanks for your help!
Hi,
I already tried to tweak the Windows & SIM resolution, restarting the PC & SIM many times, empty the community folder in case if there is any conflict, change the Minimum text size & Interface Scale, but no luck. it shows in all popout msgs (change resolution, exit the SIM confirmation, Load or save flight plan …etc) also subtitle & cockpit tooltips.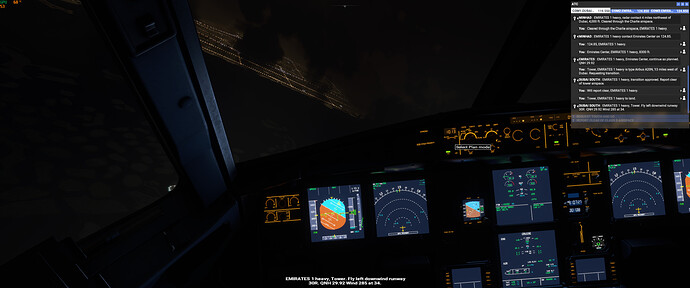 Same issue… was all fine before this update…
When using multiple monitors, toolbar items on 2nd screen… can reproduce the behavior by switching from fullscreen to windowed. Main monitor: 2560x1080 Second monitor: 1920x1080
Full Screen (Normal Font - Windows):

Windowed (Stretched fonts - Windows):

Confirmation Dialogs remain stretched:

Same for me, resolution 3440x1440, started after yesterday's update.
And same problem for me with the latest update @3440x1440,
As stated above by a CM, please post screen shots:

Restarting doesn't stop it.
I'm on 5120x 1440, but away from pc currently.
This post is related to this topic. On a 4k monitor.
I have the same issue. I'm running 2560x1080 resolution. Everything looks stretched and also looks like the screen is narrower from the top to the bottom. And dialog options are also stretched with thick line boarders and fonts too.
This has happens for me after installing the World Update 2!
My 3 display resolution is 6187x1152 in NVIDIA SURROUND.

I have the "low" resolution dialogues (in my opinion) too. See the screenshots below that illustrate the issue.
I have also submitted a ZEN DESK ticket. Request #79457 Dialogue Box Resolution.
Same problem here 2560x1080
Nvidia 2070S offical latest driver
Same problem here 5120x1440 my tool tips and menu are way to big and blurry also when i change to menu and go back to game my VFR window always goes back to left hand side even tho I`ve set it to the right hand side
Make sure you up vote this guys
Same here, both UI popups and cockpit tooltops on 2560x1080
They do know about it. Your votes are limited as to how many you get. Should save it for things they don't know.