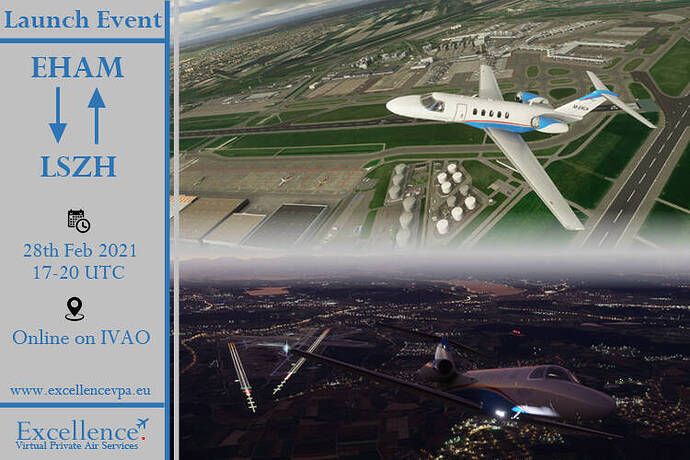 We are proud to invite you to our very first event, the Launch Of Excellence!
Let's pop champagne and enjoy our first VA event.


We will launch with an airbridge between Amsterdam and Zurich, our two hubs. This event will be held online on IVAO. Anyone who is not flying on IVAO is more than welcome to join to fly offline or on another network! You can fly oneway or both ways depending on what you prefer. We have requested ATC staffing on IVAO in both Amsterdam and Zurich and along the way.
Event information
Event Date: 28 February 2021
Event Time: 17:00 to 20:00 UTC
Event Type: Airbridge
Countries: Switzerland, The Netherlands
Airports involved: LSZH, EHAM
Aircraft types: Cessna CJ4, Cessna Longitude or any prop used for biz travel
Members of our VA can download the Excellence livery for the Cessna CJ4 and Cessna Longitude from our website, https://excellencevpa.eu.
Pilot Planning
Excellence members and non-members are welcome to join our Discord
EHAM: K stands, Schiphol Oost. Dedicated runway 22/04.
LSZH: F or W stands.
EHAM-LSZH route:
LOPIK N852 SUTAL UN852 SHARA UT407 BLM
LSZH-EHAM route:
VEBIT T51 LASUN UT10 TORPA UM624 LUL UT60 GIVOR UN853 IBERA BUB Y28 HELEN
If you decide to fly on IVAO or any of the other networks with live ATC,
we kindly request you to:
Be prepared - have access to charts
Note the departure, circuit and arrival altitude restrictions
Be ready - you may be asked to enter holds or extend downwinds
Remember - Aviate, Navigate, Communicate
Maintain proper IFR radio communication
Follow IFR procedures
Scenery Information
Schiphol and The Netherlands do not require additional scenery in MSFS. Schiphol is in fact one of the first hand-painted airports in the sim! Thank you Asobo!
For Switzerland and Zurich airport, you may check flightsim.to for scenery enhancements.
Charts
You can get the charts from the IVAO country divisions:
EHAM: NL Division site
LSZH: CH Division site
Award
Our VA members will have the opportunity to receive the one-time Excellence Lauch Event Award.
When you don't want to be a member but you want to join the event, you are more than welcome! Your award will be bragging rights