found it but how i can delete it
Thanks now it works
and i should never do a random uninstall again
Make sure you're in HKEY_CLASSES_ROOT\Installer\Products\247… (this number can be different from mine) and then right-click on the yellow folder-icon and choose delete (or export the value first just to make sure you're not messing it up)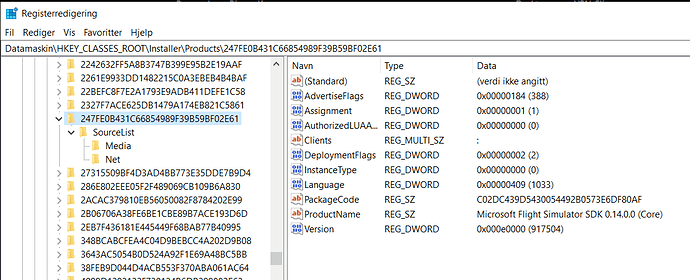 yea it was there and idk why this happened
All SDKs installers have been 1.5 to almost 2GB. SDK .14 is just 110mb.
When installed it kept .13 installed as well, and perhaps patched it.
That's a significant file size change. Good to see the documentation has been separated out.
The samples are now a seperate installer, too.
I uninstalled the .13 version first and then installed the new version.
These download links are now giving me XML errors:
'This XML file does not appear to have any style information associated with it. The document tree is shown below.'
The link in the sim (from the top right corner 'SDK Update available', where the release notes are) doesn't do anything (and hasn't since SDK14 was released)

Got it to work from the drop down menu, but c'mon this is basic basic stuff…
I get this
AuthenticationFailedServer failed to authenticate the request. Make sure the value of Authorization header is formed correctly including the signature. RequestId:277a3b65-601e-0025-1626-9c7358000000 Time:2021-08-28T16:04:52.4162509ZSigned expiry time [Fri, 13 Aug 2021 10:29:36 GMT] must be after signed start time [Sat, 28 Aug 2021 16:04:52 GMT]
when I follow your core or documentation link
Thanks man
Looks like the link has changed yet again. Cannot download 0.14.1.0. Any help would be appreciated. Regards
something with the servers again ? It starts to download, then just stops? Or gives authentication errors right at start of download ?
Seems they are aware of the problem and working on a solution. Some authentication issue…
Is it just me, or do these links not work right now?
Hello,
Does anybody can, ply, send the new link ??
Thank's a lot