In that case they should use the word dynamic - not live
They're French. Probably either a language thing or a marketing thing
No, not made up, predicted.
Based on scientific forecast principles.
So if a weather system is predicited for your area IRL, it should happen in the sim when it is supposed to hit your area IRL.
Like any forecast, it isn't going to be 100% accurate all the time.
It doesn't seem to be very accurate in the sim as yet!
Yep, I use these forecast models for my work chasing tornadoes.
I was pointing out that the forecast Flight Simulator used to create the weather was valid for 6 am. It should have been using the forecast valid for 6 pm. It was using the wrong data, a bug on the Flight Simulator side, and thus the weather it was displaying was "12 hours old".
It would be like if you listened to the morning news broadcast, and the weather person said: "This morning: partly cloudy, east wind at 10 mph, with a temperature near 60. This evening: showers and thunderstorms, southwest wind at 20 mph, with a temperature near 80". Then you fired up Flight Simulator in the evening and it shows partly cloudy skies, an east wind of 10 mph, with a temperature of 60. The forecast for the morning is being drawn in the game, when it had the evening forecast available, but didn't use it.
Help me help Asobo understand this problem. We've been reporting this bug since the Alpha builds.
Thanks, I didn't get the 12 hour difference part.
I feel like Homer Simpson, Duuh!!
There's no such thing as "actually live weather". There's no simultaneously transmitted measure of all the variables Flight Simulator can use.
Instead the weather is observed at a bunch of places and a bunch of times, and then it's interpolated to its current position using the rules that weather follows. Imagine a train is spotted passing through a station 5 minutes ago, but we want to know where it is now. We know the speed and direction of the train, and we have the train schedule, so we can predict where its current position is. If you saw that animated on a moving map, would you say the displayed train position is "live"? I would. Yeah, the train might be a few seconds off when it gets to the next station, but the predicted time was pretty darn close. The "Live Weather" in Flight Simulator is as "live as it gets". Or it should be at least. It's also broken and not finished Live Weather. These numerical forecast models are the best approximation of the current state of the atmosphere that currently exists. It's just that they haven't been properly utilized by the simulator yet.
setting my server location to auto, starting in the cockpit with clear skies then switching to live weather has really helped with accuracy
Sorry, I should have elaborated…
What I was getting at there is the constantly wrong in-game METARs I'm seeing, thus nixing my ability to use Foreflight alongside Live Weather.
This ability is simply critical for my recurrent training usages.
If live weather will continually be off from RW METARs, hopefully the ability to have an App like FF pull WX data from MSFS might come along.
I don't really care if it matches what's outside exactly…I just need to be able to use FF, as I do in RW, to practice correctly.
If that makes sense?
The disconnect between "Live weather MSFS" METARs and RW METARs online and in ForeFlight is my issue.
Definitely. I think the correct approach is to mainly use the forecast model to create the simulator's weather. It won't match ForeFlight or the METARs exactly, but it should be pretty darn close most of the time. Just like the real world weather doesn't match the METARs exactly, but it's pretty close. But in many instances the forecast models are more accurate than METARs in representing the current state of the atmosphere, simply because the METAR can be as much as an hour old, and they're a fragment of info from a point location.
But when this stuff doesn't work, this approach of using forecast model based weather often gets blamed, rather than it being a buggy Flight Simulator. Asobo's on the right track, they just need to keep at it. We need to put the pressure on them to finish the weather engine as advertised. I'd hate to see them pitch this next gen weather for static METAR displays like we had in FSX.
At the moment my in sim weather is tying in with the NEMS Global prediction for 0000z 5th March, i.e about 17 hours ago.
I think
I've also recently noticed the meteoblue map shows quite substantially different data depending on zoom level, making it even harder to tell if the sim weather is matching the predictions.
For example, Lossiemouth in Soctland, UK has a cloud height of >5200m on one zoom level and 200-400m on another…
That's the same bug I had last night, where it was using the initialization hour instead of the current forecast hour. In your case it's now using the initialization hour from the 0z run, so the forecast for 00 UTC 5 March. I saw this same bug when you posted a screen shot from the World Map previously. It showed the same old weather over Alaska as it did for me. Meanwhile, other users actually had the current weather over Alaska. So it's not a universal issue it seems.
Yep strange, only now I can't go any further back than 1200z on the meteoblue website. Is it possible the sim uses as far as you can go back on the metoblue website or is that far too simplistic?
I suspect it's a relatively straight forward bug, but it might be hard for the them track. Perhaps:
There's a glitch in how Flight Simulator asks for the current forecast hour. It might get confused when the clock rolls over 00 UTC and screws up the date change, so it might be defaulting to the 0-hour forecast for the current model run. It might be a time zone bug.
It might be stuck using old data, perhaps due to a caching issue or because the data never got updated, and so it's using the most recent forecast available which is still the forecast for x hours in the past.
Like this?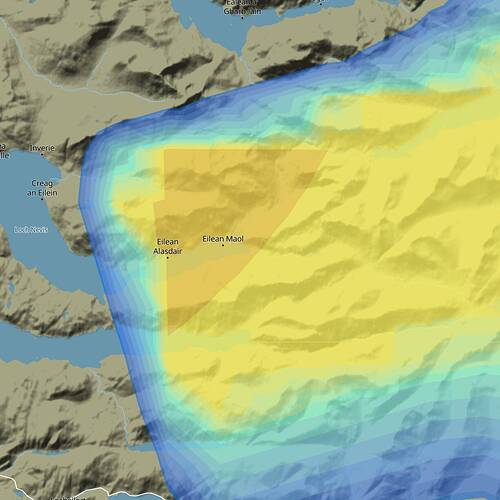 That looks like the same data, just rounding error in how it's displayed. The Meteoblue website could definitely do a better job of that. More troublesome would be if there's entirely different data at different zoom levels. That's exactly how the world scenery in Flight Simulator works. It loads entirely different tile sets from different dates for the ground textures depending on what altitude you're flying. The weather can't do that or it would wreak havoc on the simulator.
I cant find the example now, as I can't get back to the 0z forecast. The boundary of change in cloud base was quite a long way away if that makes sense, so it looked like totally different data.
I have sort of been trying to track and understand what is going on by finding locations on the meteoblue maps that have very low cloud ceilings and then checking them in the sim, and if (as is mostly the case) they don't match changing the forecast time until it resembles the simulator, this way I should be able to find which forecast time the sim is using.
I thought I had got this to 12z but I just tried Unalakleet Alasaka, but that shoudl have been 300ft overcast but the ceiling is 7000ft (by slewing) which corresponds to more like 1600z
This is fast becoming an annoying addiction, it's like the more I try to find out what is going on with the weather I just can't stop!
Now i've tried CYMO. According to meteo blue c150ft to 300ft ceiling all day, sim, 2000ft, I am beginning to just think it is totally broken!
Yeah I'm beginning to think it's totally broken too. There's times when I look on meteoblue and then I load in the sim and I'm like ahh okay, well that kinda matches. Then I'll try a whole bunch of different airports and it's like ahh actually, some sort of match, other's don't match at all!
The only thing that ever is correct for me is the wind speeds, the temperature and the pressure - I believe they're pulling that info from the METAR as it's always spot on.
As for the clouds, who knows. They say it's based on a forecast model based on meteoblue data? But most of the time the data meteoblue gives for me is completely wrong. Times when it's fully overcast here and according to meteoblue, it's clear skies. No wonder the weather in MSFS is all over the place.