Even some that no longer exist.
Adding these to the list
Whispering Pines GA80 Georgia USA
Eugene F Correia International Airport SYEC Georgetown Guyana
Eielson Air Force Base PAEI Alaska USA
Thanks @MLTAVIATOR99 . Looks like I used the wrong identifier for SYEC. It was submitted to Zendesk under SYGO. The other two were also submitted last year.
I think Asobo should make an effort to include at least and prior in this order:
1.all missing MAIN Airport, based on e.g. passenger or/and flight movements
2. all missing remote airports and finally
3. local airfields
as a general ranking (but allowing exeptions for cult, strange, "beauty", epic, … airfields). That would help imho to allow first doing flights for VATSIM, IVAO and others, to fly between main airports (e.g. also Panama or Stuttgart), an would on the otherwise allow doing flights e.g. in the remote pacific, where each remote airfield is important for stop overs for smaller aircrafts
SKJU or Alfemar Airport which should be a large airport is also completely missing. Apparently, it is submerged…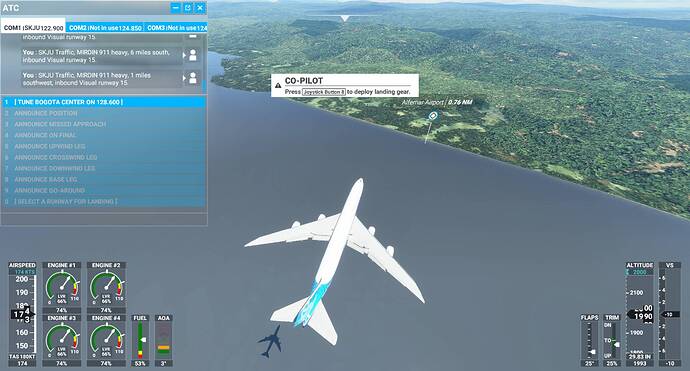 Sent request for LEZG for third time to Zendesk
Yes I use Airhispania since FS2004, thanks, but the question is why the second cargo airport and maybe the most important airbase in Spain is not in the default sim.
Airbases are rare due to military security aspects - known restriction. The missing buildings are a glitch of the autgen building engine and for sure not the only case in the thousands of airports. Might also be an issue of the bing map resolution in this area. Check it out and keep posting in zendesk…Regards Guido
bonjour
pour information
manque également CUERS-PIERREFEU (LFTF)
We are also missing Vagar airport (FAE) on the Faroe Islands, a notoriusly difficult airport to fly in to. I've been flying to (as passenger though) more than 30 times.
Yep, it was submitted in the first batch under its ICAO identifier EKVG.
Hi ClavierNom17765,
According to the Code of Conduct, you must use English when posting on the forums. The one exception is the #multiplayer category, where you can use any language to help you find users to connect with.
If you cannot read English, the forums provide a handy feature that translates posts into your native language, you can use this feature by clicking the translate button under a post.

If you need help converting a post from your language to English, try using Bing Translator, the same service used by the forums.
Hi! There is another kind of mistake: SBAC is totaly wrong! The city, the state, the location, the name of airport, all information are incorrect. It does not comply with the AIRAC 2103 cycle. As far as can be seen, the part of the ASOBO team responsible for the AIRAC base is not doing a good job.
LFDS - Sarlat-Domme in the Dordogne, France
I can't believe after the French update they missed LFRH… it's pretty major…
And LFOT… All military Airports are missing. It's a bit disappointing and confusing. LFOT is military and civil airport. LFOT was in FSX and in XPLANE. It's maybe because Bing data is pixelized.
I remember a guy who started to implement french missing airports and posted it on MFS forums, his post was deleted. I don't understand why they don't let people resolve this issue by themselfs. If it for some terrorist problematic, the sceneries already exist on Xplane with some addons.
Yes, it would sure be Awesome to see Eindhoven Airport in FS! Thanks for composing the list!