MSFS Mobile Companion App Thread
MSFS Mobile Companion App is a tool that allows you to control essential aircraft instruments such as NAV/COM frequencies or autopilot using almost any mobile device. The MSFS Mobile Companion App is free to use.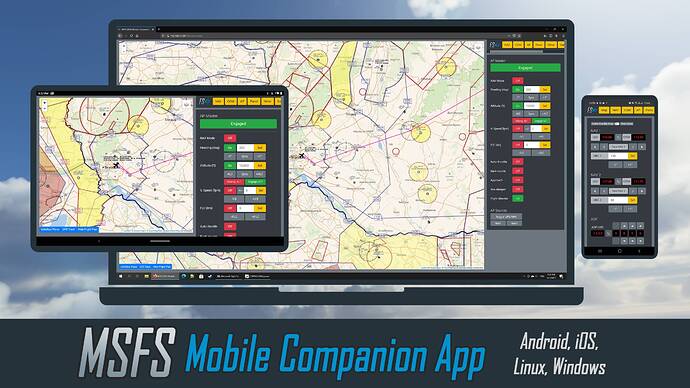 Update 1.9 (Aug/30/2021): Updated FBW A32NX v0.6.3 and dev controls and added load KMLs
Update 1.8.2 (Jul/11/2021): Added support for DC-6 (PMDG)
Update 1.8.1 (Jun/14/2021): CPU utilization hotfix
Update 1.8 (Jun/14/2021): Added support for FG-1D Corsair (MilViz) and UI improvements
Update 1.7 (May/14/2021): Added support for MB-339 and Long-EZ (IndiaFoxtEcho) and added gear, flaps, spoilers and trim controls
Update 1.6.1 (Apr/20/2021): Added support for CRJ-550/700 (Aerosoft)
Update 1.6 (Mar/29/2021): Added support for PA-28R (Just Flight), A32NX EFIS, GNS430/530, G1000
Update 1.5.2 (Mar/4/2021): UI hotfix for iOS devices (decimal and negative numbers input)
Update 1.5.1 (Feb/8/2021): Hotfix for load flight plan not working on Steam versions
Update 1.5 (Feb/5/2021): Added landscape mode and load flight plan
Update 1.4 (Jan/6/2021): Added A320 AP controls
Where can I get it? You can download the MSFS Mobile Companion App for free on GitHub or flightsim.to. It's free. No ads, no in-app purchases, nothing.
Important notice for new users: Don't install the app on your mobile device! Download and run it on your PC. This creates a local web server to which you connect via an IP address. You can connect to the app from your Android, iOS, Windows or Linux devices. To find out more about this app, visit the GitHub project page.
Enjoy the app and let me know your feedback!