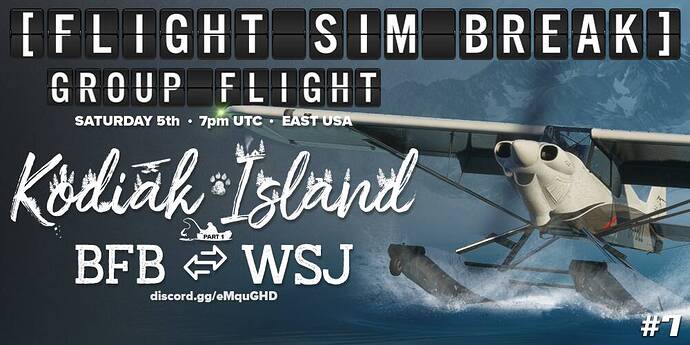 Multiplayer Event - Kodiak Islands - Part I

Date / Time: 06/05/21 - 02:00 PM CDT (1400) /// 1900 UTC
Event name: Kodiak Islands - Part I of II
Sim: Microsoft Flight Simulator
Server: EAST USA
Departure ICAO: BFB
Arrival ICAO: WSJ
Aircraft: X-Cub Bush League Legends Amphibious ( Recommended ), other float planes!
Route: BFB,PZ05,PZ02,DGB,AED,ORI,PAKD,PADQ,KZH,WSJ
Flight Conditions

MULTIPLAYER: ALL PLAYERS
AIR TRAFFIC: OFF
WEATHER & TIME: VFR Conditions - Players Choice
Kodiak Island

Kodiak Island is a large island on the south coast
of the U.S. state of Alaska, separated from the Alaska mainland by the Shelikof Strait.
Important Event Links

Make sure to download ALL files listed in the description of the Kodiak Megapack! ALL OF THEM!
Flight Plan Information

IMPORTANT - We will start OFF in the water, and land and takeoff in water often! Float plane REQUIRED!
Take off from BFB heading towards PZ05 via the flight plan as a group. Enjoying the Alaska Kodiak scenery on the
way towards PZ02, DGB, and the other destinations in the route and flight plan.
Other Information

Please post event screenshots in the #screenshots channel.
Voice channel Required, even if you can't speak, for breaks, and other info!
We understand some people can't chat cause of families, etc…
Discord

Make sure you have the Discord Desktop App Running Before Clicking the LINK!
MSFS Flight Plan

VFR Blue Fox Bay Seaplane Base (BFB) to San Juan Uganik Seaplane Base (WSJ).pln (7.0 KB)
After the Kodiak Island Event we are going to stick around and fly the Airbus H-135 Helicopter in the Kodiak area. We will see how it goes for future events maybe!
And a Flight Sim Break livery for it by a Discord member:
See you at the event!