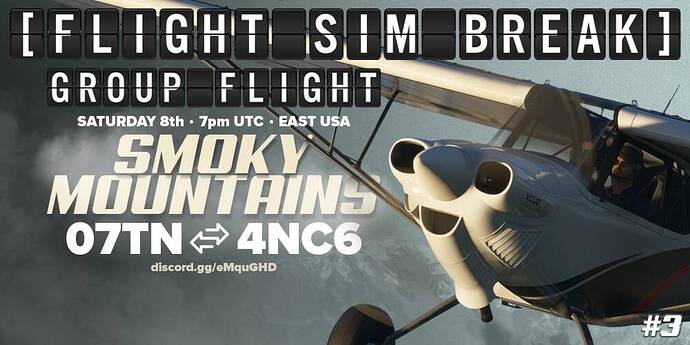 Multiplayer Event
Date / Time 05/08/21 - 02:00 PM CDT (1400) /// 1900 UTC
Sim: Microsoft Flight Simulator
Server: EAST USA
**Departure ICAO: ** 07TN
Arrival ICAO: 4NC6
**Aircraft: ** X-Cub, C172, C152, etc.
Route: 07TN-57NC-4NC6
Flight Conditions
MULTIPLAYER: ALL PLAYERS
AIR TRAFFIC: OFF
WEATHER & TIME: VFR Conditions - Players Choice
Flight Plan Information
Take off, fly east following the river, fly low and slow. to airport 57NC. After take off, we will be following
Hwy 74 till we get to I-40 interstate, fllowing it to Asheville, NC, where we will turn South the a POI ( Point of Interest ) and then to the final airport 4NC6!
Other Information
Please post event screenshots in the #screenshots channel.
Voice channel Required, even if you can't speak, for breaks, and other info!
We understand some people can't chat cause of families, etc…
Desktop Discord App must be running for invite to work! Download the Discord App to your PC!