PM sent
Will you add aerosoft twin otter when it comes?
@Lucidus76 We know the Aerosoft Twin Otter well from its previous version for FSX and look forward to providing instructors for folks who want to fly it with Microsoft Flight Simulator 2020.
We plan to offer support for all the planes published for Microsoft Flight Simulator 2020. Of course this takes a little time as some of them are more challenging for us to support than others.
Thank you for this! I just downloaded, installed, and ran the demo. It is great that you make the functional demo available. Users can make an informed decision on whether or not it's the right thing for them before purchasing. It would be great if every addon for MSFS came with a demo!
I started the demo in 2D and then switched to VR while in the air. I read enough of the manual to get started but didn't read as much as I should have, probably, so some of the rough edges I encountered are likely because I was too excited to get started.
Here is my feedback so far:
– First thing first: THIS IS JUST WHAT I NEED. I'm new to flight sims (not counting my time with the original in the 80's) and after doing the lessons in MSFS I've been lost as to what to learn or how to improve. My first flight with the FSFS demo was a combination of doing several things wrong and being extremely proud to have scored well on the approach and landing.
– The manual, from what I've read so far, is very well written and edited. It's refreshing to have something that clearly has had a lot of thought and proofreading put into it.
– It would be nice, of course, if we didn't have to also install FSIPC7 (which triggered a trojan warning from my browser guard). It would be cool if they could somehow be integrated.
– It would be nice if there was some way to not have to start MSFS, get into a plane, then go start FSIPC7, then start FSFS, then click connect. Anything you can do to make this more streamlined would be appreciated. Ideally, some day far in the future, it would be fantastic if there was a way to launch the whole thing from a button/menu in the game.
– I appreciate the humor of the instructors and in the log. However, I can see where it would get old if they repeat the same joke or phrase too often. There should be a way for FSFS to know that it already used a fun phrase in a given flight or even in the last several flights.
– The instructor, rightfully so, reminded me after takeoff of all the things I had forgotten to do before takeoff. That's fair. But then he reminded me of some of those same things later in the flight. I would hate to have to tell my instructor to chill.
– I know you said above that voice commands are on the way. Will this allow us to advance and move back in the flight sequence or, ideally, just tell the instructor the stage at which we want to be? Hitting ctrl-shift-z and ctrl-shif-x is quite the chore when in VR! Maybe even if voice commands are available, being able to map the advance and go-back keys to buttons on our controllers would be nice for VR.
– I guess I didn't need to see my log book as I was flying but if there is anything in the FSFS window that it would be good for us to see while flying, it would be great if it could be brought into VR. Each VR headset has some way, after a fashion, to bring windows or desktops into VR, but they are painful to use in many ways. If you could make the FSFS window visible in the plane (optionally) in VR, that would be fantastic! Maybe take a a look at the new VFR for VR app that brings a map into VR and see if you could do something like that. Part of that app adds a button to the in-flight menu (in VR too) and that could be a great way to connect to FSFS or at least see the status.
– The instructor gave some suggestions on tuning the ADF to a beacon, but other than knowing what the words meant, I have no idea how to do that. Not sure if the manual covers these kinds of things. It's just one of the many things I need to learn but I wonder if I need to go figure this out on my own or if it will be more fully explained in FSFS.
– The full log book, which is great to read to learn what I did well and what I did poorly, is a bit confusing because it says "FSFlyingSchool for MSFS 2020" but then says "Using: FSX".
Anyway, I am excited. I know that my feedback was mostly things to improve, but that's just because I'm thinking this is something I want to keep using and learn from. I obviously need to read the manual beyond page 7 and I need to play with it all more, but I wanted to jump right here to give you my impressions after my first instructed flight! My #1 request is ways to control in VR without needing complex key combinations on the keyboard but I can live with that for now (and I definitely AM going to be doing my learning in VR!).
THANKS and keep up the good work!
Hi uncmonkey:
Many thanks for taking the time to write such a detailed summary of your experience with FSFlyingSchool – and many thanks for your kind words of encouragement. I am so glad you are enjoying flying with us on board!
Good to hear that you have the demo – this is something we offer for all our products and think it is a pretty fair way of introducing folks to our product features. Folks can make 100% certain that the product has the features they want and runs as they would want on their own PC before even thinking about making a purchase.
As you mention, reading the manual is indeed a good idea, and the pilot will get a far more rewarding experience if this is done. FSFlyingSchool contains a great number of features, some of which will be familiar, but others will not, and folks are well advised to at least look over the manual as soon as possible. It is, of course, included with the free demo, so pilots can read it without making a purchase.
As regards FSUIPC7, we are about to publish a free update to FSFlyingSchool which makes the whole process a lot easier for folks to install and use.
Thanks for your ideas about the humor – this is something we can look at. In the meantime keep in mind that the humorous quips can be turned off – and rest assured that you won't lose points for this…
You mentioned that the instructor reminded you more than once that you had forgotten to do things before takeoff. Some folks get this impression, but the good news is that the logic in FSFlyingSchool has the instructor remind you to test the function of the flight controls until you do so – and will then, after cruise has been established, run through a list of those that you did or did not perform.
Our exciting Voice Command Pack is being worked on for Microsoft Flight Simulator 2020 (the FSX version has over 40 commands) and does indeed include commands to advance or reverse the current FSFlyingSchool 'flight mode'.
Regarding viewing the FSFlyingSchool log book screen while flying - the main point I will make is that there is nothing on it, or any other part of the FSFlyingSchool application that the pilot would look at during a flight. After the flight, then of course the pilot will want to look at the log, submit scores to the web, save flight maps to the web and so on.
In a different direction so to speak, we are also looking at methods to allow the pilot to 'connect' or 'disconnect' from FSFlyingSchool while Microsoft Flight Simulator 2020 is the program currently with focus.
Tuning the ADF and using NDBs is an example of something the instructor will refer to so the pilot knows that this can be done at the pilot's discretion, but it is not something that FSFlyingSchool teaches to the pilot. There are many other things like this in FSFlyingSchool – the product's primary focus is airmanship, but the instructors will also broaden the pilot's awareness of a great number of other things.
Thanks for mentioning that the log book has "FSX" displayed in it – looks like I missed that logic! Will correct!
I hope you have a great weekend of flights – keep your eye on FSFlyingSchool as that aforementioned free update to owners of FSFlyingSchool for Microsoft Flight Simulator 2020 will be coming very soon, with support for many more aircraft – and other new features!
Free update!
Support for 6 new planes in FSFlyingSchool in Microsoft Flight Simulator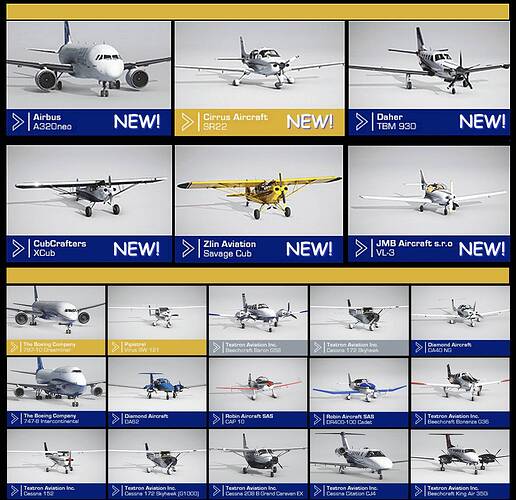 @pp21125597 We've added support for the TBM930
Hi, I can admit I am blind
but I can't find how to update the software. Some time ago I have bought the commercial version, and when I open I can see the version (v14.0.0) but I can't find on your website how to update it (and if there is a later version). Can you help me to navigate it?
@SkyHead81 No problem, I should have mentioned it before!
Simply download the latest demo of FSFlyingSchool and install it in the same folder as FSFlyingSchool v14.0.0.
When you run FSFlyingSchool you'll then have v14.1.0
Enjoy
Thanks for a quick reply
No problem
Schiphol also has a "threshold-base" and "mid-runway base" like that I will see if I can find the charts somewhere.
In a normal circuit, the correct procedure should be to cross threshold at 50 ft screenheight to protect against undershoots, start flare over the aiming point markers and touchdown after, this is also what the landing distance in the AFM is based on, so landing normally always occurs after the threshold. I know the Mickey Mouse landing challenges require you to touch on the markers and therefore requires flare to start before and therefore cross the threshold below 50ft or at a steeper approach angle, but this is not correct.
Actually landing on the threshold would only be appropriate for a short field landing although you shouldn't use runways shorter than the published landing distance required from the AFM, and as already mentioned the LDR is based already on crossing the threshold at 50 ft on a 3 degree glidepath, flare, touchdown and brake, so it should never be necessary to land on the threshold when flying within the limits set by the AFM but it might give more margin in certain situations and in case of emergency it might be necessary to use this technique to land safely when forced to land on a short runway or when forced to land off airport.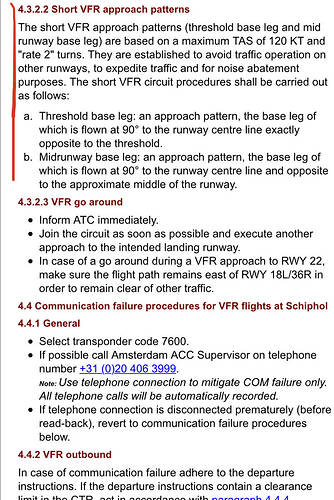 Is there a changlog for FSFlyingschool, did not find it on the original website.
No, we don't have one. I can help if you have any questions?
The Voice Command Pack is now available for FSFlyingSchool for FS2020, so you can talk to your instructor!
Full product info:
[UPDATE: 14.2.0] Voice Command Pack Add-on for FSFlyingSchool - Third Party Addon Discussion / Product Announcements - Microsoft Flight Simulator Forums
Another free update
Hi, do you know when you're likely to add Just Flight's Turbo Arrow to the Flying School app, I purchased your app today but was a little disappointed to find that although the normal Arrow is included, the turbo one isn't.
Obviously, Just Flight's Warrior would be nice at some point too, but that only came out today, so I'm not gonna rush you on that one yet.
Thanks for your interest in FSFlyingSchool! Yes - we have support for 32 airplanes at present - and that includes the Just Flight Arrow, but not yet the turbo. We're working on adding that exciting beast and also the freshly minted Warrior.
This year we've averaged around one free update every month or so and have used them to add support for more planes and demos of new add-on packs such as the Voice Command Pack and the brand new Beechcraft King Air 350 Detail Pack.
Interested folks can of course try the free demo.
It's just an estimate, but I would expect that support for these two Just Flight beauties will be added to FSFlyingSchool within 3 or 4 weeks.
Have a great weekend of flights!
The flight altitude and path graphs are exactly what I felt was missing from MSFS. FSX had the flight following and was wonderful. Glad to see you have been able to effectively implement that back into the system.
I do have one question - how does the system know what runway you're using? Is it ATC options or just using judgement based on your approach? Does this product work if I'm flying Vatsim and don't use the MSFS ATC?
Thanks!