Well, I'm one of those adventurers… although sometimes I have some serious unpleasantness, to be honest…
I am an early adopter on pretty much everything (yes I'm insane) but this was the first time that I for whatever reason saw the new driver and ignored it. Dodged a bullet…
I am also getting CTD's when I hit the fly button. How do I revert back to the previous Driver?
Made this change to fix it (on mine at least.) EXACT same issue. I also did a full uninstall and clean install. Reverted back…same issue.
Changed to DX12 and all is fine. I wish we'd get paid for all the bugs and troubleshooting we all have to do.
Dx11 with new Nvidia drivers = CTD after 10 mins in the sim…
Hello everyone,
The team is watching this thread very closely. I have created a poll to help us determine how widespread this issue is. Please vote in the thread linked below, and be careful to select the right poll option depending on which version of Windows and DirectX you are using.
Thanks,
MSFS Team
Please disregard - I found out how to revert back to the previous Driver!!
Great improvement as regards lovely crisp shadows in the cockpit together with improved FPS.
After a clean install using DDU to clean out the trusty 472.12 previous Driver.
(Founders RTX 2080 ti).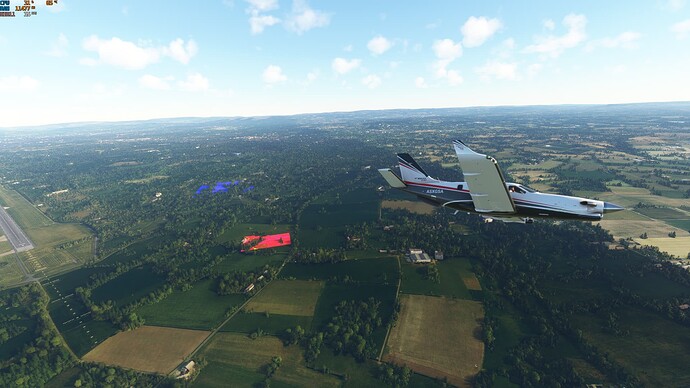 Blue squares with new drivers
2nd try lasted few mins, then upon restarting flight - CTD
Roll back to 496.76 - NVIDIA DRIVERS GeForce Game Ready Driver WHQL
Ok, just did another flight. It was again perfect!
So far I'm thrilled with this new driver. I'm baffled by all the issues mentioned here.
And when most don't post their specs, it doesn't help them or anyone else.
Yesterday I updated the driver and I was able to fly without problem.
Tempting to DDU 497.09 thoroughly. Then reinstall same. That might explain why there are those without problems on new driver.
@pidge2k
Thanks, Manuel. Feedback submitted on the Nvidia site.
Regards
@TooLowTooSlow, @Rosen213, do you have free G1000 NXi installed from the Marketplace ? (I also get this intermittently)
No problems for me…no ctd
Yes I do have the latest G1000 NXi, have done a clean DDU driver removal and reinstalled the 497.09 still getting blue squares randomly when changing views around aircraft.
I will try with temporarily uninstalling the NXi, as I've noticed the blue area on the scenery was nearly the same as top blue part on the G1000. Just an idea of additional check for this specific issue outside the CTD concern
With Dx12 enabled I don't get the blue squares and the fps quite good, but unfortunately all of my Carenado aircraft just lockup and crash the sim with Dx12. I'm going to roll back to previous drivers… and Dx11 for now
I feel better now. I updated last night and it was crash after crash. I suspected the driver all day at work, but won't have time to do anything until the weekend. This is a classic piece of info and I thank not only you lot, but the forum as well.
1080ti here with 497.09 installed.
Blue squares and CTD shortly after hitting Fly

Win 10 21H1.