same here, usb test gives now 2.1 Gbps, i guess it was lower before, 1.8 if i am not wrong…
and waiting activation of new functionalities… Desktop isnide VR and Air Link
only 120Ghz option is available
Now I'm waiting feedback for AirLink, so don't hesitate to post about this new tech!, thanks
Cngratulations, I am still waiting. What version number does it show ?
And to stay in the correct forum. How does FS work with air link ?
Yes, but i can't understand how we use it…
I need to try again
ok, got it, so its still same version, V28 on both headset and PC, i was with these version since some days, but today i saw the option Airlink on Oculus PC after restarting it.
Same on headset side, i had to restart it and i can activate airlink.
Connection to PC is quite easy…
But i see through a rectangular window, and there is a huge latency, when i move head left or right, the windows moves within about 1 sec or more…
I tried to lower the frequency to 72, was on 90, but still very difficult to use.
i give a try anyway on MSFS…
no, no…
i got MSFS, but with such a huge latency its impossible to manage it.
I am with a 5ghz WiFi access point, the WiFi AP is on my desk, about 6àcm from me, connected by cable to my network, all 1Gbps cables and switches.
I can play with VD with quite good result even if i prefer right now the Link, but just to say that with VD its working 100 times better.
So may be there are some places to tune the thing but right now its impossible to use for me. Even just with the standard VR room displayed in the headset.
Zero out/default your Oculus debug and tray tools settings.
Are you saying that by doing so you're getting throughput sufficient to use Air Link with FS with reasonable results? If yes, can you quantify the transfer rate you're getting?
Thanks,
OK. so you definately can't use the OTT settings and then try Airlink.
It needs you to go back to completely to default settings otherwise you will get severe delays.
Airlink was smoothish for VR in MSFS but i think that is more to do with the downscaling from my settings. I did notice tearing in my bottom left eye.
As far as using normal oculus games. Was fine however i still feel VD is doing a better job than airlink for the meantime but very promising over all.
i reset all OTT to default values, and also my Nvidia driver (RTX3070) and its same, even without launching MSFS, the view has a huge latency.
When i check my desktop usage i get this !
CPU is only 60/70% but CGU is 100%

Just downloading V28 now. Interested to try this out…
Also, this looks REALLY promising for the ability to type notes into some kind of VR kneeboard…! I'm assuming it's only within the quest 2 home, though, not for PC yet…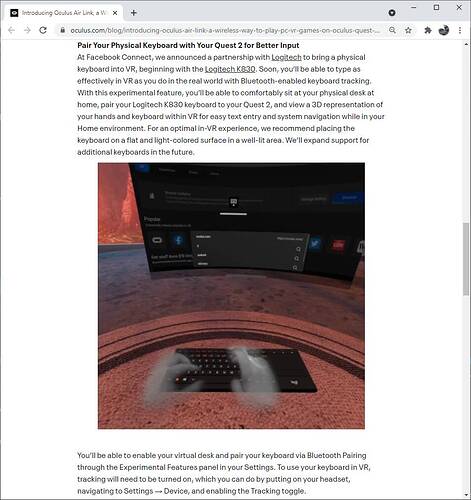 Downloading is for desktop, need also to get v28 on headset (just wait it will come automatically) and then need to wait to get the airlink option on both which pop in after, sometime after…
so, just flew Newquay (superspud mod) > Gatwick (standard in-sim). live weather, lots of clouds.
Airlink seems at least as stable as link was for me, absolutely fine.
Was still able to use debug tool to set FOV 0.8; 0.8, and turn ASW off (gave up on tray tool a week ago, pointless as you have to reset settings each session anyway, and some have said OTT causes them instability).
I tried it without debug settings first, but I was getting the wobbly cockpit I always get with ASW on. Happy to say no issues so far.
Just one flight of course, will test later with a more demanding flight, pop the navigraph window out into oculus VR, etc etc. Will report back.
But so far airlink seems a total winner for me!
---
Here are my specs and settings for those who might like to try:
5800x,H100x cooler, 3070, 32gb 3200mhz, 500gb NVME, x570.
No overclocking, only bios change is RAM speed.
latest drivers, windows updates, Nvidia 466.11
PC > wired > NOW Broadband Hub (router, wifi off) > wired > TP-Link Omada AC1750 WAP > 5ghz (same room) > Quest 2
Game mode & HAGS both on
Nvidia control panel default settings
Oculus debug tool FOV 0.8; 0.8, ASW = OFF, everything else default
2d Desktop resolution 1080p
Live weather & live traffic on, multiplayer off
Graphics Settings as per @TonyTazer1504's thread (these are his screenshots)
EXCEPT that I have TAA @ 100!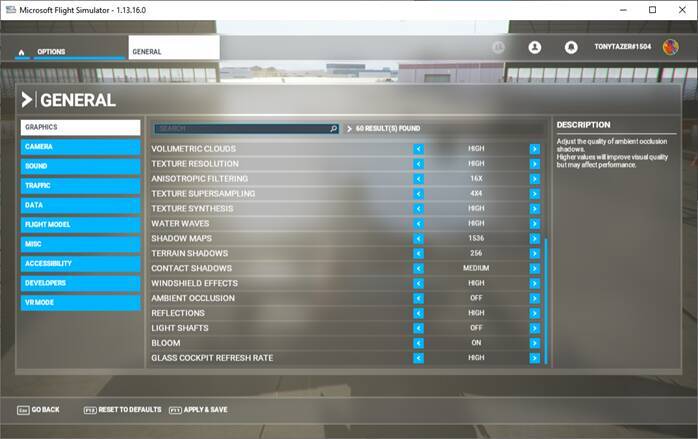 yes, i saw a post on FB with the parameter i had to change, in Debug Tool, the bitrate which was set at 350, i just set it at 0 and now seems excellent !!!
all options in OTT and debug tool reset to default, and super smooth in MSFS
think its better than LINK
Sorry for these first bad tests, but definitely this bitrate limit must be removed !
Thats good info to know, thanks!
now, next step will be to learn what are the best settings for airlink, surely we can improve it a lot !
Lets see, for me it seems about the same, maybe a bit more stable.
I'm not going to get my hopes up, but then I have already pushed my settings pretty hard recently as my performance has improved with the last Nvidia driver and FS2020 patches.
How do your settings compare to mine in my post above? Are many of yours higher / lower?