Hello Texas. I fly MSFS
My gamer tag is Gloomylake935, come and find me and we can fly
Rich
I just wanted to post that I just managed to get the Jack of All Planes achievement…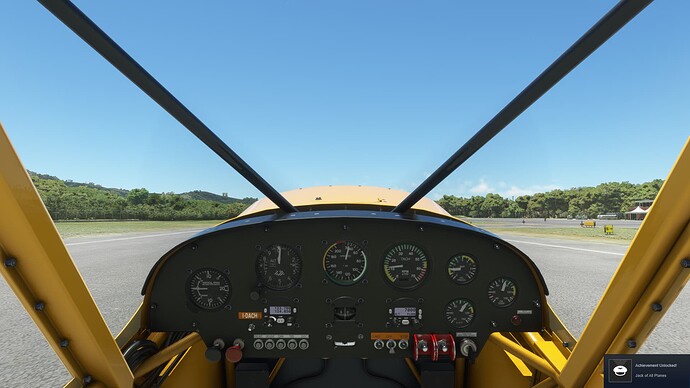 That's LIRJ on Isola d'Elba, I flew there from LICJ with a strong tailwind.
And if there's one tip for new simmers which I wish I'd got sooner, it's the existence of Little Navmap.
Congratulations

Yes, there are a few apps that make life in MSFS easier.
[REFERENCE] Compilation of the best companion apps to use alongside MSFS2020?
Hi, my names Michael and very much new to this, in fact I've never played any computer games in my 65 years. But I am a hangglider pilot with a keen interest in all things that can fly. Just installed all the stuff a couple of days ago, and have 12 hours up so far, but A BUNCH OF QUESTIONS have arisen, so hear I am.
Greetings to all.
Hello Texas. Welcome to MSFS. I'm retired and am on most days. I'm o xbox s. Can help if need! Let me know.
My name is Rich
Hi, you can call me: Ace
I am playing Microsoft Flight Simulator on: PC
I want to try flight simulation because: I have an interest in flying
I'm most interested in learning about the Garmin G1000 in the Cessna 172 Skyhawk in Microsoft Flight Simulator
Hi,
I am here because I like flying MFS202 as I find it relaxing and enjoyable. I also fly Falcon BMS but I switch it up from time to time. I do like some things that are aviation related and I am looking to become more proficient within MFS2020.
Hello Ace. Welcome to MSFS. I'm sorta new, but working on the G1000. Glad to help if I can.
Am retired, so am on most days. Live in Alaska
My name is Rich.
The Cessna Caravan probably. then the TBM930 is challenging.
Hello Jump. I've flown in F-16 Falcon Fighting Falcons, a combat sim. Also flight sim 95 is what I started with years ago. I fly the a320 Airbus and F-18 Hornet. Not sure what you are referring to!
I'm retired so I'm on most days.
Call me Rich
Falcon BMS is what has kept Falcon 4 alive all this years.
Hello. I'm John in the Midwest otherwise known as HaplessZulu1381, a name which I got stuck with at the sign-on screen and can't change I guess.
Not a pilot here, but a long-time hardcore FSX flight simmer and sim fanboi going back to FS2000 and 2-D (you kids just don't know).
Had some seat time as passenger in vintage and small aircraft a while back.
Just vicariously living the dream of every other person throughout history who looked up at the birds in the sky.
Very impressed with this program so far and remain a student of the craft.
Hi All
I have just re-introduced myself to MSFS from the old addition many years ago. I downloaded the free Standard edition via XBox to my PC to see if it will work on my computer before committing to either of the next two grades. Local PC shop said my specs were OK but still get a 'does not met minimum requirements' warning. Although the game generally plays OK , there does seem to be some gremlins to overcome. I'm sure members of this forum will help me out bit-by-bit.
I look forward to learning a lot from you. Thank you for having me.
Hi i'm Vxlphy (Volfy)
I'm on pc and i'm from Milan in Italy
My local int airport is Milan Malpensa (LIMC) and i've been interested in aviation since i was a child.
so this is me
Hi, You can call me Bernhard.
I'm playing Microsoft Flight Simulator on PC
I use X-Plane 11 too an d I'm interested in gathering different experiences.
I try to figure out how the simulator works.
Welcome GameHeart
I'm on XBox s Series. Fly the a320 Airbus and the F-18 Hornet
My name is Rich
I'm also returning to the Flight Sim world. I used to be around Flight Simulators back in the times of Michael Zyskowski (Zee),Aces Studio and ESP (not many will remember that).
Due to a very serious injury stopping my main interest for the moment (riding bikes), I've jumped back into FS now I have a computer capable to run it well. It's very nice to use this modern Flight Simulator for virtual sight-seeing, particular for places I've been to before:
I haven't flown over there in real life, but I've ridden up and down that road (it is very famous) on a bicycle. It's hard work going up and scary fast going down (85km/h). It's pretty amazing now to be able to see it on a computer sim. I took off from Nice, flew up to St Etienne de Tinee then followed the road up from there. Also other locations like Megeve or Courchevel are also quite accurate to real life. Flight Sim in the old days wasn't anything like this.
In old times I used to use mainly MD-11, 777-300ER, 747-400 and 737-800 in FSX (all the PMDG planes). I also had a very realistic Concorde and knew that plane very well (navigate using INS).
In FS2020 I'm flying whatever is suitable for my sightseeing flights, something with propellers or a small jet (Honda Jet). I've got the Fly By Wire A320 - the first time I've tried any Airbus plane in a sim. It's pretty amazing they are doing A380 as well.