Hi all,
I have just purchased a new PC with a 1Tb M2 SSD system drive. It currently has 432Gb of free space.
The old PC had MSFS2020 installed on a 250Gb SATA SSD (E drive) and it ran fine, although I have not played it for several months.
I initially installed it on the C drive then installed the SATA SSD (set as E drive) then moved to the E drive to improve load times, which it did by about 50%. I physically moved that SSD to the new PC and cloned the old OS from a hard drive to the new SSD. When I went to test MSFS2020 on the new PC, it gave me the not enough disk space error message. As the new system drive had plenty of space, I used the move option to move it to the C drive. The system now tells me it is installed on the system drive and I can move it to another drive if required.
However, the E drive, which should have had all files moved still shows 115Gb of used space.
When I try to run MSFS2020 now, it still tells me I don't have enough disk space for the updates. The C drive shown in the attached image has 432Gb of free space.
Would someone please tell me what is going on here and is it possible to resolve without uninstalling/reinstalling?
UPDATE: I re-entered the file location in the field on the attached screen, sending it to the local cache folder on the C drive, C:\Users\Steve1\AppData\Local\Packages\Microsoft.FlightSimulator_8wekyb3d8bbwe\LocalCache
and it is now updating. Have I sent this to the correct folder?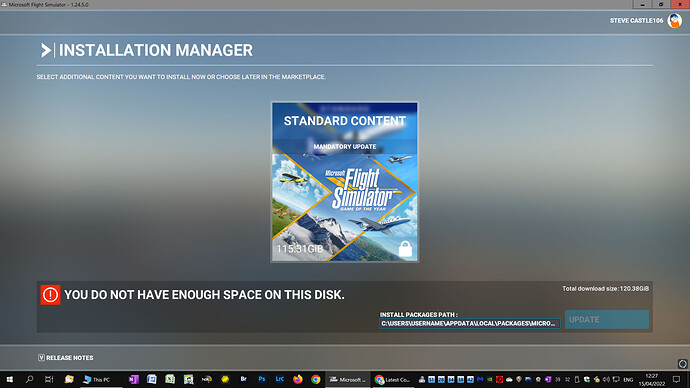 However, I still have 115Gb of used space on the E drive when MSFS2020 is supposed to be installed completely on the C drive. I know MSFS2020 uses space on multiple drives, but why is my system still showing so much used space on the E drive when nothing else is installed on that other than MSFS 2020 which should now mostly be on the C drive?
Am I making sense?
Regards,
Steve