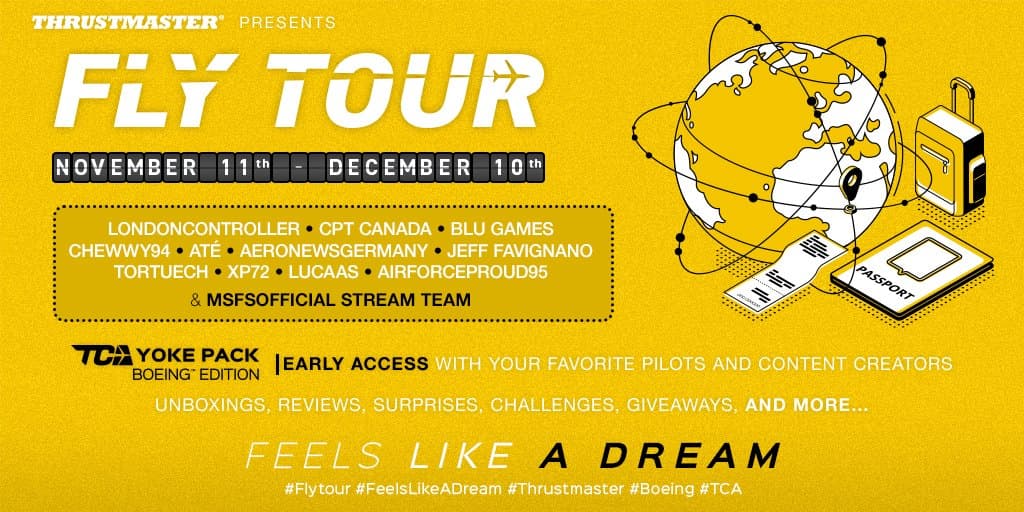 We will be hosting an Official Fly-in alongside a group of community members (you!) on Twitch. This is an open event, free to all who would like to fly along with us and available to pilots of all skill levels. The goal is to have a great time, explore new locations of the world, and make new friends. This event is open to pilots on both the PC and Xbox platforms.
Hosted by @SeedyL3205, @Jummivana, @Pieter1982NL, @simtom2, and @VNAVPTH7717
When: Friday, December 10 @ 2000Z for two hours.
2021-12-10T20:00:00Z
Where: The Official Twitch Channel of MSFS
There will also be a Discord event channel open for those who want to voice chat with other members of the community.
Please see below for details on the upcoming Fly-In Event:
FLIGHT DETAILS
For this week's Community Fly-In Friday, we are thrilled to be participating in Thrustmaster's Fly Tour! Our stream team will be demoing Thrustmaster's upcoming officially-licensed Boeing TCA Yoke and Throttle. You may have already seen some of your favorite flight simulator YouTube and Twitch creators taking part in the Fly Tour.
Joining us on this flight to provide his expert knowledge is a real Boeing pilot, @VNAVPTH7717. He is currently employed as a First Officer for a major US airline and has over 10,000 hours of flying time, including over 9,000 hours in jets and over 1,000 hours in Boeing airliners (737, 757, and 767).
Our flight plan this week will see us depart from Paine Field near Seattle, Washington, home of Boeing's widebody assembly facility (the world's largest building by volume!). We will then turn southward for a flyover of Thrustmaster's original headquarters in Hillsboro, Oregon before continuing down the Pacific coast of the United States to our final destination of San Francisco, California.
Pilots on PC can download the .pln file for this flight here:
Community Fly-In Friday 2021-12-10 Thrustmaster Fly Tour.pln (5.9 KB)
For Xbox pilots, we will spend the first few minutes of the stream quickly explaining how you can create your own flight plan from the World Map. Alternatively, you can simply fly along with the group without using a pre-defined flight plan.
Note: because we are very fortunate to have someone of @VNAVPTH7717's expertise joining us as a guest co-host this week, we will be doing things a little bit differently than normal. He is going to be flying a 787 and running through the entire start up procedure from cold and dark. He will also be playing with multiplayer disabled for a more realistic experience. @Pieter1982NL, @simtom2, and I will lead the mass swarm of airliners in multiplayer mode. We will be mostly showing @VNAVPTH7717's point of view during start-up and taxi and then switch to mostly the large group POV during cruise.
AIRCRAFT
Recommended aircraft: Boeing 787 Dreamliner, Boeing 747, Airbus A320neo, or any other jetliner or business jet of your choice.
We will be starting at KPAE. Please load your aircraft 10 minutes prior to takeoff and taxi over to the runway to be ready for departure.
MULTIPLAYER SETTINGS
Please adhere to the following settings so you can see everyone / be seen by everyone.
| Variable | Setting |
| --- | --- |
| Server | North Europe |
| Multiplayer | All Players |
| Live traffic | As preferred |
| Weather | Clear Skies |
| Time of Day | Morning |
It is advised in this flight to turn off both aircraft collisions and terrain collisions. If you do crash, you can use "slew" mode to join the pack. If the pack will be too scattered before the first stop, we will use slew on a defined point to regroup.
COMMUNICATION
To communicate with others, a voice channel on the "Official Microsoft Flight Simulator Discord" at https://discord.gg/msfs will be available to join.
LET'S FLY
This is meant to be a fun and informal flight. Everybody is welcome, no matter the amount of experience.