NOTE DAY CHANGE: THIS WEEK'S COMMUNITY FLY-IN WILL BE ON WEDNESDAY, NOT FRIDAY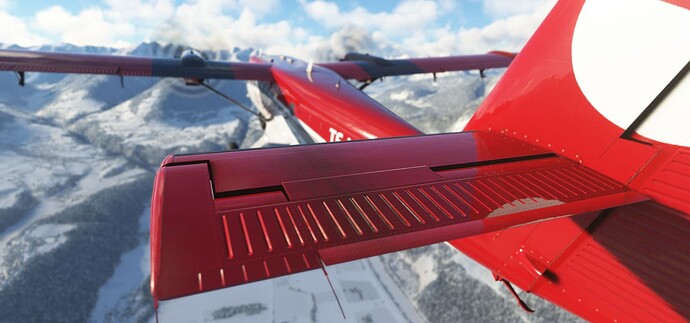 Above: a DHC-6 Twin Otter flying over mountains from third-party developer Aerosoft.
We will be hosting an Official Fly-in alongside a group of community members (you!) on Twitch. This is an open event, free to all who would like to fly along with us and available to pilots of all skill levels. The goal is to have a great time, explore new locations of the world, and make new friends. This event is open to pilots on both the PC and Xbox platforms.
Hosted by @SeedyL3205, @Jummivana, @Pieter1982NL, and @simtom2
When: Wednesday, January 19 @ 2000Z for two hours.
2022-01-19T20:00:00Z
Where: The Official Twitch Channel of MSFS
There will also be a Discord event channel open for those who want to voice chat with other members of the community.
Please see below for details on the upcoming Fly-In Event:
FLIGHT DETAILS
January 19 marks the release of a highly-anticipated third-party aircraft, the De Havilland Canada DHC-6 Twin Otter from developer Aerosoft. To celebrate the release of this storied bush plane, we'll be departing from the location of its final assembly facility at Calgary International Airport (CYYC) then heading westbound into the rugged and beautiful wilderness of the Canadian Rockies.
We will also be joined by a special VIP guest co-host and Twin Otter expert during this livestream, Microsoft Flight Simulator community member picstloup. He holds Glider, Private, and Commercial Pilot licenses (with multi-engine and IFR ratings), has a Master's degree in Aerospace Engineering, and for nearly ten years worked professionally on the Twin Otter program in a variety of roles including Production Engineering Manager and Plant Manager at the plane's final assembly facility in Calgary. During the stream, he will be happy to answer any questions about the Twin Otter and share many stories and anecdotes from his time working very closely with this famous aircraft type.
Pilots on PC can download the .pln file here:
Community Fly-In Wednesday 2022-01-19 Twin Otter Canadian Rockies.PLN (10.2 KB)
We will be starting at CYYC. Please load your aircraft 10 minutes prior to take off and taxi over to the runway in preparation for departure.
AIRCRAFT
Recommended aircraft: this livestream will feature the payware DHC-6 Twin Otter, but flying this plane is not mandatory. If you do not own this aircraft, other suitable options include the Cessna 208 B Grand Caravan or any other aircraft of your choice with a cruising speed of ~150 knots.
MULTIPLAYER SETTINGS
Please adhere to the following settings so you can see everyone / be seen by everyone.
| Variable | Setting |
| --- | --- |
| Server | North Europe |
| Multiplayer | All Players |
| Live traffic | As preferred |
| Weather | Few Clouds |
| Time of Day | Daytime |
It is advised in this flight to turn off both aircraft collisions and terrain collisions. If you do crash, you can use "slew" mode to join the pack. If the pack will be too scattered before the first stop, we will use slew on a defined point to regroup.
COMMUNICATION
To communicate with others, a voice channel on the "Official Microsoft Flight Simulator Discord" at https://discord.gg/msfs will be available to join.
LET'S FLY
This is meant to be a fun and informal flight. Everybody is welcome, no matter the amount of experience.