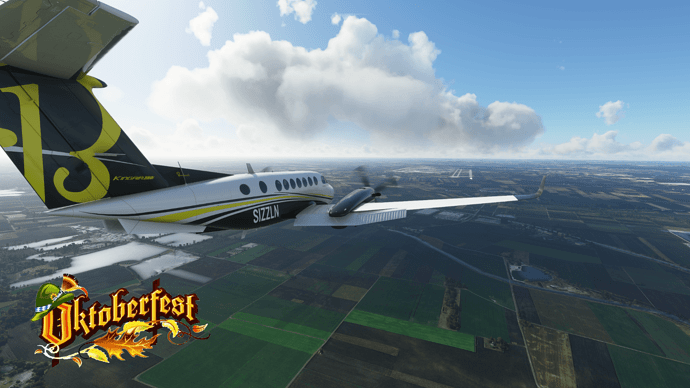 Oktoberfest
When: Friday, October 16th @ 7PM ET/11PM Zulu
Where: YouTube → http://bit.ly/MSFSOktoberfest (Discord: https://discord.gg/r5tmFRs )
Plane: Beechcraft King Air
Duration: About 3 - 3 1/2 hours
There will also be a Discord event channel open for those who want to voice chat. → https://discord.gg/r5tmFRs
FLIGHT DETAILS
This week's Friday night event will take us on a journey through Germany from Hamburg (EDDH) to Munich (EDDM), where Oktoberfest is held every year.
Oktoberfest is the world's largest Volksvest (beer festival and travelling funfair). Although cancelled this year, the folk festival runs for about 16-18 days from mid/late September to the first Sunday of October.
There will be 6 stops (including the destination - Munich). At each stop, we will provide enough time to have an optional beverage of your choice (water, juice, soft drinks…). Please drink responsibly. You are responsible for your choice of beverage and for your behaviour throughout the event and the live stream. The rules that you've accepted in the Discord will still be in effect. If you break any of the rules, you'll be muted and/or banned based on the organizer's judgement. This is a welcoming and fun community, so let's have fun!
Start: Hamburg
Berlin-Tegel
Paderborn/Lippstadt
Cologne-Bonn
Frankfurt/Main
Niederstetten Army
Destination: Munich
OPTIONAL DLC
Berlin-Tegel Airport by Gaya Simulations (about $19 USD) → https://orbxdirect.com/product/gaya-eddt-msfs
Paderborn/Lippstadt Airport by Aerosoft ( FREE ) → in MSFS Marketplace
FLIGHT PLAN
OKTOBERFEST.PLN (3.4 KB)
To use the flight plan, follow these steps:
-Download the flight plan to an easy-to-remember location
-Open MSFS
-Go to the globe
-Click "Load/Save" on the bottom of your screen
-Click "Load"
-Navigate to the downloaded flight plan
-Click load.
WEATHER
We will use custom weather.
MULTIPLAYER SETTINGS
Please adhere to the following settings so you can see everyone / be seen by everyone.
Variable - Setting
Server SOUTH-EAST ASIA
Multiplayer All
Live traffic As desired
Weather Few Clouds
COMMUNICATION
To communicate with others, a voice channel on the "Sizzling Nation Discord" at https://discord.gg/r5tmFRs will be available to join. You can also follow along, with a slight delay, through the YouTube stream: http://bit.ly/MSFSOktoberfest .
It is advised in this flight to turn off both aircraft collisions and terrain collisions. If you do crash, you can use the "slew" mode to join the pack.
This is event is open to everyone of all skill levels and is meant to be a fun event to meet other sim pilots.