Have the same issue here, Market Place is not activated…not sure what to do.
In having this issue right now, my internet connection is just fine and i het this announcement. What its that about?
Same problem. And game seems not starting, I'm stuck for ages in the new activities screen with the progress bar at the bottom at 100% (and wasting 250W of power) with nothing happening…
Same problem here. Tried to sign out of xbox and same thing… "offline". internet is fine too.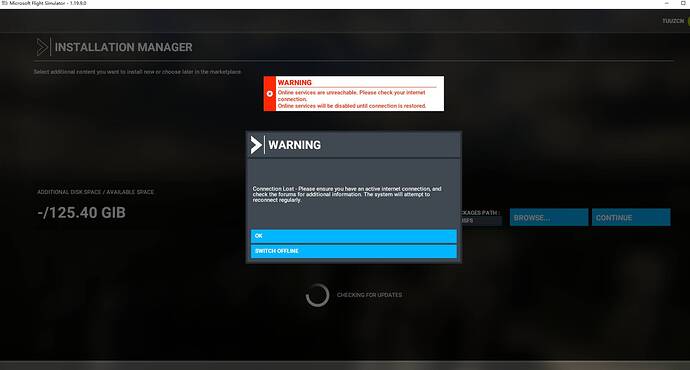 I was already at the newest versions with xbox and the game itself.
And I found that the game is connecting to a server which is 13.107.213.39
this address is belong to US-MS ,and when I visiting this IP with https then it reply as
---
Our services aren't available right now
We're working to restore all services as soon as possible. Please check back soon.
0RelbYQAAAAAckG4cDsZ1Rr5QBflc8R6rU0pDRURHRTA1MDcARWRnZQ==
Seems the resource is lost? Or the azure firewall block my IP out?
I was able to login and update untill Sep-18(or later)
And I was already reinstall the game and Xbox twice
Don't know what should do now
I'm having this same issue as of today. I'd never seen this error before now.
I wouldn't be surprised if it has something to do with the servers not being able to handle the additional traffic with the xbox release.
"Online service are unreachable" even for me in Italy.

Same problem here in Thailand. Online services are clearly working but the big ugly red notification will not go away and makes flying difficult.
Same. "Online services are unreachable" for me in Barcelona.
Since couple of months, flying with FS2020 has become a very frustrating experience.
I had no issues right before updated to 1.19.9.0 and now it's gone
Same here in South Africa. Started about an hour ago
looks like Azure Playfab has issues. CasualClick posted the links in this thread before.
So Microsoft Flight Simulator servers are off?
Hi Folks,
Note the original post in this thread dates back to twenty three (23) days ago.
There is currently an outage, today 10/7/2021, but this thread was not originally started because of that.
To talk about today's outage 10/7/2021, please go here:
Thanks.