Yep I have uninstalled Brisbane city until they get a fix… the one reason I didn't buy Auckland.
Orbx ant exactly reactionary are they? I posted for support last week and never got a reply! And that was about Brisbane and FPS drops.
I dont even bother with Orbx anymore for support. They are useless. Not the company they once were unfortunately. I wasn't John Venema's biggest fan but he knew how to run a tight ship and they did actually listen to their customers.
Don't expect an update to any of their products in any sort of timely fashion. I do feel I'm taking a gamble every time with their products these days.
Yes I do get that general impression from them.
I posted a support ticket re Orbx Auckland and had it answered pretty quickly, by Holger Sandman himself who developed the product:
After further flying in the area in various aircraft, there certainly is a gradual FPS drop the closer your position is relative to the CBD, although its rather subtle if you don't have an FPS counter running. It seems like the scenery LOD's haven't been optimised in the same was as say Drzewiecki Design's Chicago landmarks which is unfortunate.
It seems when flying above 6000 feet, the FPS reduction is much less. I can achieve a steady 38-42 FPS when viewing the scenery from the external cameras all the way across the city: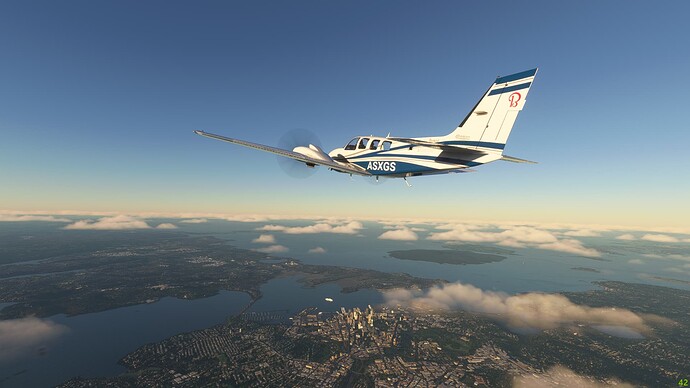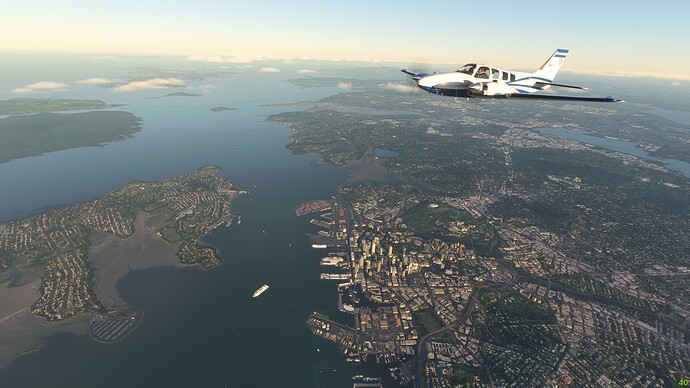 Flying around the CBD lower than this, from SFC - 2000 feet, FPS are about 10 FPS lower than this on my system (AMD Ryzen 7 3700X, RTX 2070 (4GB), 32GB RAM) running in 1080p with Terrain LOD at 300.
I raised a ticket with them once three times and never got a reply. In the end I posted in their forum and was told that they had responded to me each time. the person who responded to me on the forum then emailed me directly and the email contained both my previous tickets and Orbx's responses. They havd been replying, but for some reason I'd never received the emails. They weren't in my spam folder, they just never arrived for some reason.
Once I posted in the forum they resolved the problem in a timely manner so maybe try that.
Flying around Auckland is my benchmark test location every time a new sim update gets released.
Happy to report a significant increase in FPS performance over this area now, up from 38-42 FPS reported back in November 21 to a steady 48 - 60 post SU10. This is using DX11 + Nvidia DLSS + Quality + AMD FidelityFX Sharpening set to 200 at 1920x1080.