Does anyone know if PFPX, works with this sim…?
Yes, it should work ,but as MFS is not natively supported you have to perform some steps (needs only to be done once):
Open PFPX
create a flight
export it and in the export dialog, go to the addon list, choose e.g. FSX, click on browse in the menu bar and go the folder "…Microsoft.FlightSimulator_8wekyb3d8bbwe\LocalState
click OK ( or create a new folder)
make sure that you have ticked the box in front of the target and click on Save in the menu bar,
Now the pln file is saved at that location and can be loaded from the Worldmap.
This is how it worked for me and the flight plan is shown in the Airbus. But must admit I did not complete a flight.
many thanks it worked a treat
cheers
hi! i just tried your steps, however i am receiving an error message "0 routes saved - 1 error occurred", what am i doing wrong here?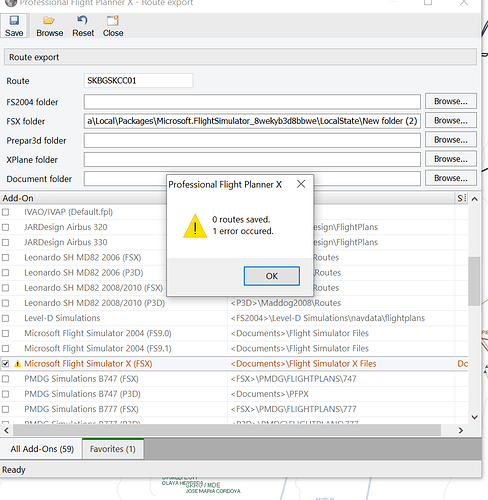 what i do is not trust the flight sim paths, i click on the top one Browse, then set the path to correct folder and save
hope this helps
Thanks! It did

great, just do it with all sims, i know have to pay for my membership to pfpx…!
And are you using pfpx with fs2020? I have noticed that once I upload the flightplan in fs2020 the stars and ILS are not loading, and if I change the ILS directly in the worldmap the entire flightplan changes…
yes fs2020 seems to have issues with sid/stars including simbrief types, so i just place the dest/dest or kmiamco in co route in the mcdu for example choose the rwy at each point and select the sid/star closet to that in simbrief or pfpx…i actually use simbrief as its easier and the fs2020 mcdu etc seems to like ti better than pfpx, i think there are still some teething issues with alot of our normal addons, so i shall wait for the next patch release…!
brgds