Thank you using the Bug section, using templates provided will greatly help the team reproducing the issue and ease the process of fixing it.
Are you using Developer Mode or made changes in it?
Yes
Brief description of the issue:
I know about the limitations it has but I think photogrametry has gone to a level that is far from being acceptable and to me it looks even worse than before with the beta because buildings appear to load at even lower detail than before. This is North Hills area, to the north of Van Nuys (KVNY). More precisely 34.24296, -118.49377 (where the iconic truck jump into the channel from Terminator 2 film was shot). This does not look like a house at all. It´s not even close to be a cube with at least the proper textures on the walls or ceiling. What size those textures are? 10kb? And how many polys does the object has? 20? But the whole area, like any other photogrametry areas, still kills performance massively, even when setting terrain viewdistance to 100. How can such a low resolution set of items produce so bad results both in terms of quality and in terms of performance? Are for some reason the buildings not loaded at higher detail due to any bug? All settings are on ultra, except terrain viewdistance (set at 100). Increasing viewdistance does not improve quality.
Provide Screenshot(s)/video(s) of the issue encountered: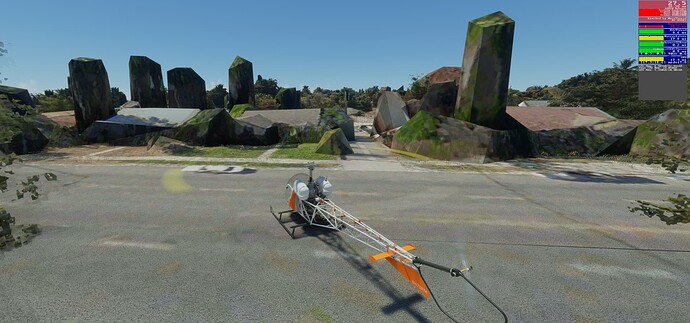 ICAO or coordinates (DevMode > Options > Display position)
34.24296, -118.49377
Detailed steps to reproduce the issue encountered:
Fly on any photogrametry area.
PC specs and/or peripheral set up if relevant:
---
For anyone who wants to contribute on this issue, Click on the button below to use this template:
Do you have the same issue if you follow the OP's steps to reproduce it?
Provide extra information to complete the original description of the issue:
If relevant, provide additional screenshots/video: