I refuse to play this game until they fix the clouds. Another disappointing update.
Yes clouds haven't been fixed as well as color banding and some other visual issues.
But they did fix a lot (and broke other things) in this SU6.
I'd say that on the visual part, we're missing:
Color banding fix
Clouds fix
Reflections fix (this one has been on since the release)
Some night sepia masks fix
Completely remade lightning effect
Apart from those, it's pretty good. Fingers crossed!
Clouds are same, very pixelated, just like from 1988 atari games. what a shame ms and Asobo!
Flying through clouds still looks like crud. It's very clear they ruined clouds to make the sim playable on ■■■■ hardware.
Updated to SU6… started the denmark bush flight… aaand… cloud reflections look like horrible blocky nintendo graphics. Not only that, the reflections moves up and down constantly, I couldn't take it anymore and… time to shelf the sim for another few months.
Blocky clouds are fixed. Not perfect but a looooot better.
Just go to the graphics options and set the Cubemap reflections to 256.
The reflections have always been ugly, dunno when they'll have a look at the reflections issues, they literally never talk about them in their Q&A.
I am also getting random occasional grainy clouds, and even sometimes a grainy cockpit details after the new update.
Sometimes I see them like this (pixelated edges), other times they look much better. Pretty strange…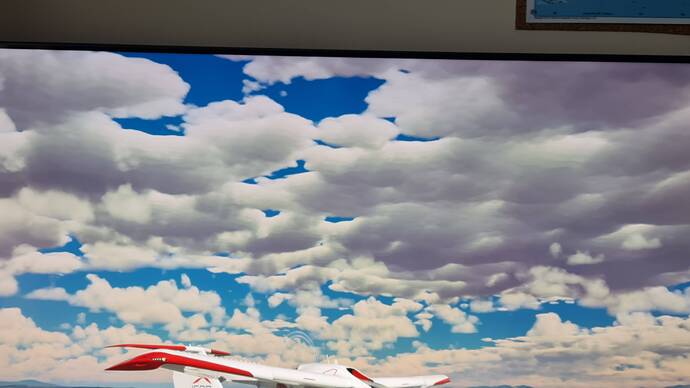 This is new cloud shadow banding since latest update with HDR.
NEVER seen this before. What the heck has happened?
This: (votes very welcome!, as despite the [Bug logged] tag we cannot be sure if it is on the dev's radar yet.)
I concur with the clouds not looking and / or behaving like prior to the V6 update. I would like to add that the cloud behavior when flying into or out of clouds is strange as well. The cloud becomes broken into what I would call horizontal distorted layers that flow over the windscreen especially when exiting the cloud. It looks very strange and not at all what I remember prior to this update…
I have not attempted to roll back my nvidia driver for my 3080 to see if this has any impact. Probably a long shot but to be completely thorough.
Don't waste your time. The clouds were ruined in SU5 so that xbox users can run the game. The cloud particle effects are super resource intensive so a simple way to make the sim perform better is to kill those effects. We'll see if they restore nice clouds when they re-do weather in SU7 but I'm not holding my breath.
this is exactly the issue
The thing I don't understand is that Xboxes don't use Ultra settings, it's either Medium or High, it has been said in a Q&A.
So why Asobo didn't just leave the Ultra setting the way it was?
Wasn't this thread originally about grainy clouds at a distance? Why was the reduced cloud detail introduced with SU5 merged here?
Ultra clouds never looked this bad before SU5:
This is not bad:) This is bad:)
How did you manage to make Flight Simulator work on Playstation 2?