Ok, so I loaded up central Paris about 1km north of the Louvre at 1700ish feet… and this first image is that. All the ugly here is that the local architecture is beyond the resolution of the PG mesh, its just because its complex.
Its not as good as I'd like, but its as good as I'd expect and again, I'd like to see a screenshot from a game that does it better using the same methods at the same scale.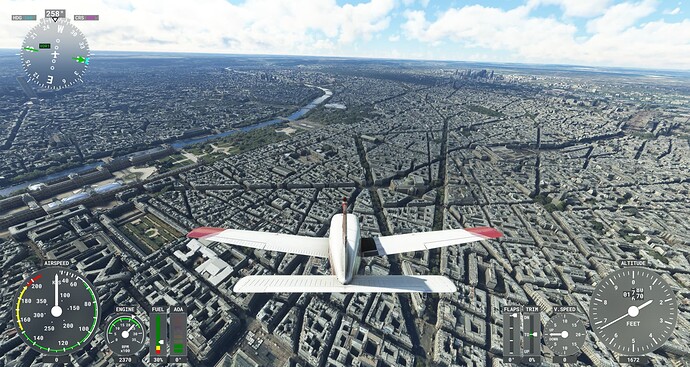 I then used SLEW do go straight up about 1000 feet to 2700ish feet and below is that view.
I think buildings that are hand built (like the Louvre) are skewing peoples idea of what the photogrammetry should look like. And again, if anyone has a game with better large scale photogrammetry I'd love to see it.
Sorry, I really think this is a case of unrealistic expectations cast against a $60 video game that honestly punches way above its price tag despite its MANY and obvious flaws.
(the orginals are 4k, sorry, the forum software did the reduction) If anyone can tell me how to share the full sized images I will.