Since SU9 these airports both have significant pink areas where textures are not loading on Xbox series x. Any suggestions?
It happened on PC too on some areas when viewed from a distance. But a screenshot would be nice. It's hard to imagine what you're exactly experiencing just by reading a single sentence.
It would help if Asobo would program the sim to display a more neutral colour when textures are missing such as grey rather than bright pink. Its just asking for trouble using such an unnatural bright colour.
That aside I am not seeing pink textures at either of these airports.
Did you clear your rolling cache after the SU9 update?
I flew out of Pyreegues EGPF last night and didn't see these pink textures. I will go check again tonight.
Yes, cleared rolling cache. I'm now going to try full re-install!
The only time I ever saw pink textures at EGPF (my local airport) was the very first FS2020 install on XBox in July last year. I then installed the UK+Ireland WU and the pink disappeared. Not seen it since with any SU or WU, and two premium versions of EGPF (UK2000 & Pyreegue), but I'm on PC now too. So it may be worth checking you do have UK/Ireland WU enable after the latest sim update.
I think the reason for pink is that it's immediately obvious that textures are missing. Making the development and debugging process easier.
I dont doubt that was the thinking behind it but it looks awful and nobody else does it, not even MS in previous FS titles so its arguably unnecessary. From a users perspective it pretty much stops the sim being useable in areas where pink crops up.
Same problem for m at San Francisco, before I delete the game for re-upload it, and now I'm just stuck cause disconnected everytime I can't re-upload world update package, so I can't play at all actually, I'm stuck on main menu
Do you have the zynertek enhanced airport graphics? That happened to me when I delete it for try to stabilize the sim
I had a thng like this happen a few months a go. For me it was my nvidia driver, I rolled back for a few days. It fixed mine but it may not be the same for you.
On the latest NVidia driver here with SU9, and Pyreegue's EGPF had no pink textures observed when flying over it tonight.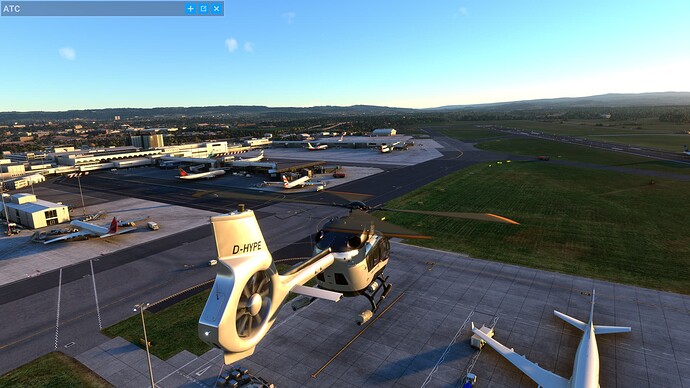 Edinburgh had no pink textures as of 10 mins ago… but it does have dual runway markings for me ( like the autogen is still there ). Glasgow looked all present & correct.